Anya Hindmarch guest edits Sotheby's 'Contemporary Curated' London auction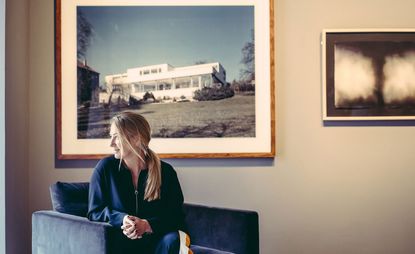 (Image credit: press)
'I could lose my heart to art,' says Anya Hindmarch at Sotheby's, where she has curated an edit of ten pieces of contemporary art as part of its Contemporary Curated sale, which coincides with London Fashion Week. 'My husband laughs at me because he thinks that one day I'll come home with a piece of art that I've remortgaged the house to get.'

Among Hindmarch's selection are pieces by Keith Haring, a neon pink and a black painting that she says she loves for its 'energy and joy', a photograph by Thomas Ruff, a large-scale light sculpture by Olafur Eliasson, and other paintings by Tracey Emin, Sam Francis and Anish Kapoor, among others.

'It was really hard to choose the works. A few of the paintings I really reacted to, and really want on my [own] walls,' she says. 'Like the Haring, which I still want desperately, but others, like the Richter, which is a small photograph smeared with paint really grows and grows on you – it's small but so captivating. The Kapoor, with its two white spots, moves and morphs the longer you look at it.'

Hindmarch, who is a trustee of the Royal Academy and the Design Museum, describes herself as a 'timid' and 'small-scale' collector of art. 'We operate a one-in-one-out policy at home. I have too many children to feed, house and educate to buy much more,' she jokes. 'And then there's a lack of wall space…'

Hindmarch said that she chose the works based on what she'd like to live with. 'They are just pieces that I loved, that I'd want to have around me; I wasn't trying to think about how they would hang together,' she says. 'But, actually, they do work well as a group.'

Sotheby's head of Contemporary Curated London, Joanna Steingold, said the auction house had wanted to invite an inspirational female British tastemaker. Hindmarch, with her patronage and love of art was the perfect candidate. Steingold presented Hindmarch with a short list of about 30 pieces to make the final curated edit of ten.

'The variety of styles that Anya chose was surprising,' says Steingold. 'With the playful mood of her collections, so bright and poppy, I expected her to choose more poppy pieces of art, but pieces like those by Wolfgang Tillmans and Ai Weiwei are very thoughtful and invite you to look twice to discover them.'

The designer said that there was a strong chance that she might walk away for the auction on Tuesday with one of the artworks, which would potentially join her own collection at home.

'My favourite piece at home is a work by Chris Levine of The Queen with her eyes shut,' she says. 'It's hung in the drawing room and my kids are absolutely terrified of it; they're scared that at any moment she could open her eyes.'

Hindmarch's curated edit is the second time Sotheby's has invited a designer to guest curate for the auction. In March, fellow London-based designer Erdem Moralioglu also curated an edit for the Contemporary Curated series, which was first launched in the United States in 2013, and has since featured auctions guest-curated by American author and art collector James Frey, Tamara Mellon, Anna Sui and NFL player Keith Rivers.

But Steingold says that the next edition of the sale will probably see Sotheby's veer away from fashion designers. 'We want to continue connecting and collaborating with leading tastemakers, and there's a lot of people on my wish list for a potential future guest curator,' she explains, declining to name her targets, but suggesting that music or architecture could be fields from which they are drawn.
INFORMATION
For more information visit the Sotheby's website (opens in new tab)
The pre-sale exhibition is open until Monday 19th September, with the auction scheduled for 10.30am on Tuesday 20th September