All about weave: a new show threads together Anni Albers' artistic ambidexterity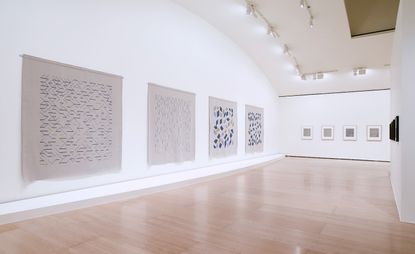 (Image credit: © FMGB, Guggenheim Museum Bilbao, 2017)
Anni Albers' career spanned two continents, eight decades and half a dozen honorary doctorates. It negotiated personal commissions and worldwide mass-production; bridging the canvas, the loom and the printing press. To stack such a mountain of boundary-crossing achievements, takes a figure of 'remarkable tenacity and adaptability', says Manuel Cirauqui, the curator of the Albers retrospective recently opened at the Guggenheim Bilbao.
'When she arrived at the Bauhaus in 1922, Albers wanted to be a painter, but she was given a spot in the weaving workshop,' Cirauqui explains. 'She took it, and ran with it. Then, when forced to move to the US in 1933, she hit the big-time in America's mass-produced design industry. At 60 years of age, when she had to stop weaving, she adapted again as a great theorist and philosopher.'
'Touching Vision' highlights Albers' lifelong artistic ambidexterity, through a catalogue of examples taken from each of her 'phases'. Linearly presented, and guided by Cirauqui's steady hand, we see the queen of weaving's singular modernist vision unfold across discipline, decade and timezone. The first work we confront, her Bauhaus thesis subject, is laid on top of a glass vitrine, so its textural complexity can 'rise to the fore', says Cirauqui, his hand hovering over the threads. Woven in, lustrous cellophane warps across haggard horsehair.
We see a commitment to material experimentation recur in her art jewellery. Defying its luxe appearance, and the source of several double-takes, Necklace (circa 1940) is made from a drain-strainer that gathers a cluster of stretched-out paper clips. Through such pieces Albers was attempting to bring beautifully made, timeless accessories to the masses, through the use of 'common materials' that were 'uncommon to jewellery'.
The Bauhaus-inspired ideology of 'art for everyone' permeated Albers' career, and later informed her mass-produced pattern work, which took off in 1951 when Florence Knoll invited her to collaborate with the Knoll textiles department, leading to a 30-year friendship, through which Albers would bring her stylistic innovation to the textile heavyweight. 'The collaboration came at a time when everyone had badly reproduced Van Goghs in their living rooms,' says Cirauqui. 'Albers thought they should instead have access to high quality reproduced art. She thought textiles was the way to do it.'
The idea reached a zenith in 1976, with Albers' best known pattern, Eclat, which started life as affordable print-upholstery, before reaching the much-copied global status it has today. For 'Touching Vision', Cirauqui lined the back wall of the Guggenheim with great swathes of original Knoll fabrics, allowing them to ripple as visitors pass close by; their hypnotically oscillating patterns waving. Positioned directly opposite, like a reflection, Cirauqui placed Albers' painstaking pencil sketches of the pattern, so as to show the thinking behind the work. We see how the lines of the pattern interweave, warp and weft, like threads.
At 60, Albers no longer wished to handle the considerable physical demands of the loom, and despite living for a further 30 years, she made a conscious decision to stop weaving, 'showing an incredible self-awareness and sensitivity', says Cirauqui. The final work Epitaph (1968), in which you can read 'a lot of her past, present and future', is a magnum opus where we follow the story of a tangled golden thread, weaving a complex path through a taut, opaque back plate. 'She created it knowing she would never be able to make such a vast, all-encompassing loom-based work again.' It's a physical representation of her weaving philosophy, embracing both technicality and expression.
Contextualised by pages from her sketchbook, and early examples of the Pre-Columbian textiles that inspired her, this is a show that reaches through the loom, and attempts to unspool the goings-on of her mind.
INFORMATION
'Touching Vision' is on view until 14 January 2018. For more information, visit the Guggenheim Bilbao website
ADDRESS
Guggenheim Bilbao
Abandoibarra Etorb
48009 Bilbao Bizkaia
Elly Parsons is the Digital Editor of Wallpaper*, where she oversees Wallpaper.com and its social platforms. She has been with the brand since 2015 in various roles, spending time as digital writer – specialising in art, technology and contemporary culture – and as deputy digital editor. She was shortlisted for a PPA Award in 2017, has written extensively for many publications, and has contributed to three books. She is a guest lecturer in digital journalism at Goldsmiths University, London, where she also holds a masters degree in creative writing. Now, her main areas of expertise include content strategy, audience engagement, and social media.