Anish Kapoor's first exhibition in India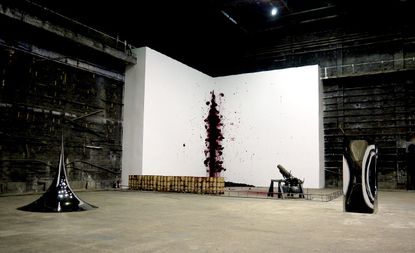 (Image credit: press)
Anish Kapoor (opens in new tab)'s first ever exhibition in India was never going to be small. The Mumbai-born artist and the Lisson Gallery (opens in new tab) spent 10 years searching for a venue capable of housing his monumental sculptures, without success. Finally, in a typically ambitious move, they decided to take on two - the National Gallery of Modern Art (opens in new tab) in New Delhi and the Mehboob Film Studios (opens in new tab) in Mumbai. With each simultaneously focusing on a different strand of his colourful output, the exhibition features everything from his early pigment pieces to new works fresh from his London studio, round which he recently took Wallpaper* on a tour.
'I believe that to make new art, you need to make new space,' he says of his Mirror series, to which he's added two new works, on show in Delhi and Mumbai. 'These works speak about the area in front of them,' he explains.
The artist has long played with concave, negative forms, which draw the viewer into the sculpture, often to mind-bending effect. 'Much art is very static but Anish, with great persistence, explores the idea where the work does not just look back at you but allows you to see yourself in a new perceptual context,' says Lisson Gallery founder, Nicholas Logsdail.
Of course, Kapoor's work also confronts notions of space simply with its audacious scale - from those vast Cor-Ten steel creations to his wax series, which dominated his recent show at London's Royal Academy (opens in new tab) (the most successful show of a living artist ever held in the city). One of that exhibition's must staggering pieces - 'Shooting into the corner', comprising a canon firing blood-red wax - has been shipped over to Mumbai's Mehboob Film Studios, joined by a new wax piece, titled 'Stack'.
Over in Delhi, the National Gallery of Modern Art had to expand the entrance to its new wing to get some of Kapoor's epic sculptures inside, including his stainless steel 'S-Curve'. It is also playing host to some of his smaller, seminal pigment pieces from the 1980s, which reference piles of powdered pigment found in Indian markets. 'They were an astonishingly innovative outpouring of sculptural ideas that remain a touchstone for his work today,' says Andrea Rose, the shows co-curator and the director of Visual Art at the British Council (opens in new tab), which is mounting the exhibition alongside the Lisson Gallery, with sponsorship from Louis Vuitton (opens in new tab).
The Turner Prize-winning artist (1991) grew up in Mumbai but moved to London in the early 1970s, so this exhibition is something of a homecoming for Kapoor. 'I'm slightly afraid of it, to be perfectly honest,' he says. 'Not because I'm afraid of being judged, but there's something wonderfully mysterious about absence.' Although he has produced vast public sculptures all over the world - and work is just beginning on his ArcelorMittal Orbit (opens in new tab) tower at London's Olympic Park - he has only had one fleeting installation of outdoor work in India. But risk-taking and adventure has always been crucial to Kapoor's work, whether in terms of the scope of the project or the creative process involved. 'As artists, we need to not know what we're doing, otherwise we're always living in the rational world,' he says. 'We have to dare to go further.'