The jungle look: artist Alex Hartley conjures a dystopian modernist folly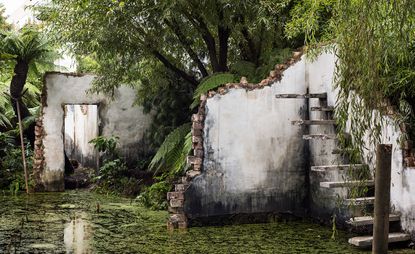 (Image credit: Thierry Bal)
If we can count on anyone to wow us with spectacle it's British artist Alex Hartley. From the Arctic to outer space, it seems he has created everything, everywhere; testing the parameters of what gallerists, art and his body can do. For Hypothermia (2012) a three-hour looped single-channel video records Hartley's core body temperature dropping below 35℃. His Nowhereland project (also 2012) paraded an iceberg around London for the 2012 Cultural Olympiad, before smashing it into pieces and sending bits into orbit. In 2003, Hartley scrambled over Los Angeles architecture for his LA Climbs book, risking life and limb to describe aerial routes of the city.

With the rest of his oeuvre in mind, creating a Bauhaus-inspired ruin outside Victoria Miro's central London gallery is just another day in the office for Hartley. But for visitors, there's no denying the new installation's drama. Hartley firmly believes that there's beauty in decay – after exploring this collapsed modernist folly we're converts to the cause of decadence.
'The way the art market works now, either you have no exhibition at all and go straight to sale, or the exhibition has to be something truly special,' Hartley says of the reasons behind his foray into follies. 'The most established galleries are being challenged by artists to create more and more ambitious installations and artistic experiences.' This builds a sense of intrigue around the artist – which will ultimately boost sales anyway. At least that's the thinking.

Victoria Miro, which has represented Hartley since 2003, celebrates this ambitious vision, and was more than up for this challenge. 'The gallery team helped to develop the garden,' Hartley explains. 'It's a very restricted site, and previously there were weeping willows. Now it has gone full Thunderbirds, like Tracy Island.'

The structure bears all the symbols of an abandoned modernist masterpiece – whitewashed walls, wide, functional windows and an asymmetric footprint – or as Hartley modestly phrases it, 'a horizontal roof and a few cantilevers here and there'. When looking at it, (and look is all you can do – wading through the swamped garden is sensibly prohibited), it's easy to feel transported to another world; or at least, a forgotten part of this one. There's a Daniel Arsham-esque post-apocalyptic feel to the installation, as if we're in the future, looking back on a terrible tragedy that has befallen today. Indeed, Hartley cites JG Ballard's dystopian novels as key inspirations. 'I wanted the installation to have a timeless quality – It could be a modernist ruin, or a Victorian folly.'
Timeless it may feel, but there's a restricted future for this work. Hartley is keen to for A Gentle Collapsing II to remain site-specific, which rules out the chance of it being bought (and therefore salvaged) on the spot. However, with more ruins planned, it would be possible for Hartley to recreate the installation elsewhere, upon request. Either way, this particular version will have to be dismantled come 16 December, to give Victoria Miro its garden back.

The rest of the exhibition is more traditional in layout, and the works will last longer than their month-long display period. Photographs taken as if 'kneeling in the undergrowth' record hidden jungle scenes. The images – neatly framed, sparsely positioned – only serve to exaggerate the exotic wildness of the outside tableau, with their clean, almost sterile minimalism. Hartley describes this multifaceted, immersive exhibition as 'the most theatrical' he has ever made, which is saying something, coming from the man who sent fragments of an iceberg into orbit.
INFORMATION
'Alex Hartley: After You Left' is on view until 16 December. For more information, visit the Victoria Miro website (opens in new tab)
ADDRESS
Victoria Miro
16 Wharf Road
London N1 7RW
Elly Parsons is the Digital Editor of Wallpaper*, where she oversees Wallpaper.com and its social platforms. She has been with the brand since 2015 in various roles, spending time as digital writer – specialising in art, technology and contemporary culture – and as deputy digital editor. She was shortlisted for a PPA Award in 2017, has written extensively for many publications, and has contributed to three books. She is a guest lecturer in digital journalism at Goldsmiths University, London, where she also holds a masters degree in creative writing. Now, her main areas of expertise include content strategy, audience engagement, and social media.