Oscar Wilde meets Wes Anderson in the fantasy world of Alex Da Corte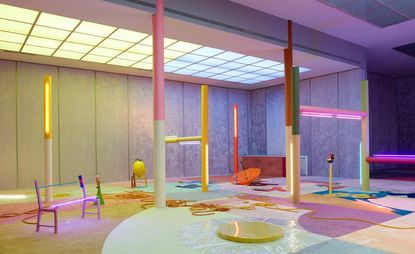 (Image credit: Alex Da Corte)
Monsters, sorcery, and sinister portraits collide at Alex Da Corte's new exhibition, 'Slow Graffiti', a 6,500 sq ft world of wonderfully weird sculptures, paintings and film.

At first recalling the exuberant glamour of a 1970s television studio, on closer inspection, the various object-artefacts, from an upside-down umbrella to a wreath of flowers, strewn across the patchwork carpets, a macabre trail unravels – the centrepiece being a new film, (itself a perfect remake of experimental Danish filmmaker Jørgen Leth's The Perfect Human). The beguiling nature of material things in a consumer-dependent world – represented in the soft-touch, neon-lit ambience of the installation at secession, Vienna – has been a pressing question in Da Corte's work, and this exhibition is no exception.

Da Corte seems to work with a free flow of associations, that all tumble out in his exhibition into a very ordered chaos. A song by Belle and Sebastian from 1998, from which the exhibition takes its title, was the starting point. 'He sings about this portrait which he relents — a portrait in a back room, which for me conjures Dorian Gray. A self-portrait. A selfie. It calls to mind the idea of seeing an instant happen, capturing a moment – if a moment was a butterfly – and a butterfly wanted to be captured,' says Da Corte, reflecting on why the song left an impression on him. 'What does it take to see and experience the present, in its most fulfilling and exquisite way? What do we make of that gap between the actual self and the perceived self? How do we straddle the line between progress and nostalgia?'
Among Da Corte's other references for the exhibition is Mary Shelley's gothic masterpiece, Frankenstein – reimagined through Leth's surreal film and the mindset of the Instagram generation. 'There is a lens that we look through now that makes things "perfect". We may call it a phone or some other device that provides the right amount of distance between the eye and the subject. Leth proposed a certain kind of perfection, in a white void, in 1967, that leaves the subject of the film at a loss. I found that this love story was similar to Shelley's novel in relation to the scientist's drive for perfection and the losses endured in that pursuit.'

Da Corte was struck by an interview with actor Boris Karloff, who played Frankenstein in the 1931 film adaption, in which he spoke of the monster as being his greatest friend. 'I thought it slightly perplexing that the friend, or thing you desire to complete you, could possibly be somewhere lurking inside you, or even in your past self never to be recovered. This idea of perfect is one that should be abolished because, frankly, there it is, intangible like rainbows. The expectations of this perfection is the root of disappointment. We could do better and get free.'

As Lord Henry Wotton – Oscar Wilde's hedonistic villain in Dorian Gray – declares: 'The only way to get rid of a temptation is to yield to it. Resist it, and your soul grows sick with longing for the things it has forbidden itself, with desire for what its monstrous laws have made monstrous and unlawful.' Maybe the first step towards freedom is reconciling with the beast within us all, preferably while seated on a velvet cushion.
INFORMATION
'Slow Graffiti' is on view until 3 September. For more information, visit the Secession website (opens in new tab)
ADDRESS
Secession
Friedrichstrasse 12
Vienna 1010
VIEW GOOGLE MAPS (opens in new tab)
Charlotte Jansen is a journalist and the author of two books on photography, Girl on Girl (2017) and Photography Now (2021). She is commissioning editor at Elephant magazine and has written on contemporary art and culture for The Guardian, the Financial Times, ELLE, the British Journal of Photography, Frieze and Artsy. Jansen is also presenter of Dior Talks podcast series, The Female Gaze.