Alec Soth's intoxicating photographic chronicles of Middle America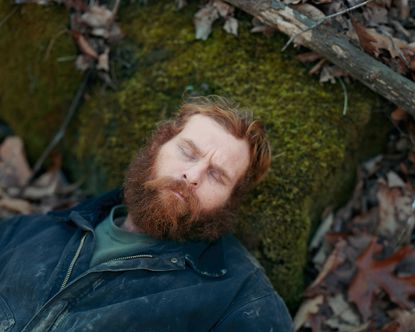 (Image credit: © Alec Soth)
'If we hadn't our bewitching autumn foliage,' wrote Mark Twain, 'we should still have to credit the weather with one feature which compensates for all its bullying vagaries – the ice storm: when a leafless tree is clothed with ice from the bottom to the top – ice that is as bright and clear as crystal; when every bough and twig is strung with ice-beads, frozen dew-drops, and the whole tree sparkles cold and white, like the Shah of Persia's diamond plume.'

It's Twain, the father of modern American literature, that springs to mind when perusing Alec Soth (opens in new tab)'s photographs, often set against austere landscapes or interiors in middle America. Widely lauded as one of the leading contemporary photographers working today, the Minnesotan artist chronicles American life with the same prodigious dexterity as his literary counterpart.

And as October's trees ripen with amber, it's only apt that Soth would unveil a poignant new show, entitled 'Gathered Leaves'. Hosted at the Science Museum's Media Space (opens in new tab) gallery, Soth's first major outing in the UK brings together four different bodies of work – Sleeping by the Mississippi (2004), Niagara (2006), Broken Manual (2010) and Songbook (2014) – just don't call it a retrospective, Soth says.

The artist's earliest project on display, Sleeping by the Mississippi, evokes the 'spirit of Huckleberry Finn', the namesake character of Twain's titular masterwork. Set against a bleak rural landscape, one image depicts a bespectacled man in olive-green workman's clothes clutching a pair of model airplanes, a nod to iconic American aviator Charles Lindbergh (opens in new tab). And then there's a serene shot of a wayward mattress caught in reeds – Helena (2002) - which Soth likens to Finn's raft.

Niagara, meanwhile, is 'lyric typology' according to Soth. It was an especially dark and challenging project for the artist, who encountered issues with the police and on the border. But Soth's unique brand of visual repartee is inherent in the body of work he has dubbed a 'penis project' (referring to the waterfalls and the rhyming link between Niagara and Viagra).

His most recent project, Songbook, saw the artist travel across America on assignment for various international publications, attending hundreds of meetings, dances, festivals and communal gatherings, compiling a visual catalogue of human interaction in the age of virtual social networks.

But perhaps it's Broken Manual that shines as Soth's most intriguing series. Shot between 2006-2010, it marked an important departure from his previous photo books. Turning his lens on monks, survivalists, hermits and runaways, Soth teamed up writer Lester B Morrison to create an instruction manual for escapists.

The 'idea is its a manual for men to run away from their lives with' – but 'the manual is broken', says Soth ominously. A mixture of black-and-white and colour photographs with enlarged details and diagrams, Broken Manual includes a particularly alluring photograph of a solitary male figure – 'the leprechaun man' – seemingly asleep on a moss-covered tree trunk, encircled by a halo of brown leaves.

Soth captures his subjects in the lonely expanse of America's social landscape using a large format camera. It's a slow and patient process – but ultimately rewarding as his prints reveal a medley of detail and colour not afforded by digital cameras.

Peppered throughout the exhibition are vitrines filled with his books, zines, maquettes, and excerpts from his self-published Tumblr (opens in new tab), The LBM Dispatch ('an irregularly published newspaper of the North American ramblings' created in collaboration with writer Brad Zellar).

It's Soth's momentous photographic prints that are most dazzling. Whether by happenstance or grand design, his images are imbued with an unmistakable Twain-esque lyricism – folding social commentary, razor-sharp wit and a compelling narrative into breathtakingly rendered photographs.

'It stands there the acme, the climax, the supremest possibility in art or nature, of bewildering, intoxicating, intolerable magnificence,' Twain waxed lyrical about the flux of seasons. But had he been alive today, he might just as easily been describing Soth's photographs.
INFORMATION
'Gathered Leaves: Photographs by Alec Soth' is on view until 28 March. For more information, visit the Science Museum website (opens in new tab)
ADDRESS
Media Space
Science Museum
Exhibition Road
London SW7 2DD