A kilometre of steel: C-mine's Boolean labyrinth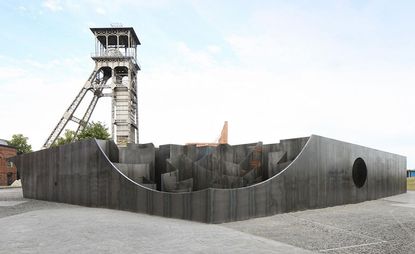 (Image credit: Filip Dujardin )
Celebrating the tenth birthday of Belgium's C-mine arts centre, Gijs Van Vaerenbergh (opens in new tab) – an artistic collaboration between architects Pieterjan Gijs and Arnout Van Vaerenbergh – have created an experimental labyrinth for the Genk-based museum.

'It is a sculptural installation that focuses on the experience of space,' explain the young Belgian collaborators of their intervention, assembled with the help of structural engineers Bollinger+Grohmann and executed by Meuwes Laswerken.

Taking on the labyrinth as architecture in its most essential form – a composition of walls that define spaces – the duo have taken the opportunity to explore the relationship between space, work and context.

Large steel plates, 5m tall and 5mm thick, have elementary shapes cut out of them – spheres, cylinders, cones – breaking down the logic of the traditional labyrinth into something far more unexpected. 'A series of Boolean transformations generate openings and perspectives on the environment,' explain the creators, 'which gives the labyrinth a new meaning.'

The voids double up as frames, which at times become orientation points as well, offering insight into what lies beyond. Walking through the labyrinth is only one way of experiencing it, however. From the lofty heights of the art centre's old headframe steel tower, one can look down and see the installation in full: guests wandering through, revealing the tensions between part and whole; form and transparency; recognition and estrangement; design and result. 'The goal is to create a certain layered-ness and openness to interpretations,' say the makers.
ADDRESS
C-mine
C-Mine 10
3600 Genk
Belgium
VIEW GOOGLE MAPS (opens in new tab)