Artist Sohei Nishino maps his Everest journey in epic photographic detail
Ahead of his solo show at Michael Hoppen Gallery, the artist discusses his intricate new cartographic work conceived at high altitude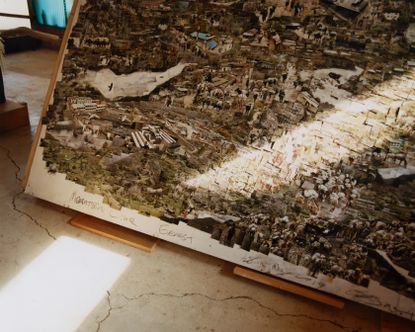 (Image credit: Fumi Homma)
There are few more goal-driven activities than the act of climbing a mountain – particularly when its cloud-brushing peak happens to be the tallest in the world. Yet when Sohei Nishino embarked on an intense 23-day climbing trip on Mount Everest, his experiences (and his camera lens) focused not on the highest possible point, but on the day-to-day minutiae of the journey. 'I was not interested in the best shots of Everest that people always go to capture,' explains the Japanese artist over tea at a gallery in Tokyo. 'I have always been fascinated by moving and walking. Rather than capturing the final summit, like many mountaineers, I prefer to show the process of getting there. This is a map of my experiences, not anyone else's.'

The end result of his Himalayan adventure is Mountain Lines, Everest, a cartographic work that will be exhibited in London this month. It marks something of a sea change for the artist who, since 2003, has become synonymous with his diorama-style maps of 20 cities around the world, from Tokyo to Amsterdam, each painstakingly created from a composite of thousands of black and white photographs, shot during months walking each city's streets. A contemporary riff on 18th-century Japanese pilgrim maps, the large-scale collages – monochrome and obsessively detailed – offer a unique reflection of the multidimensional complexity of urban landscapes, as experienced through the eyes of the artist.
Nishino created Mountain Lines, Everest using his signature technique (it includes 25,000 photographs, shot using both film and digital cameras) – yet its focus on man in nature marks a shift from his normal urban terrain. In a further visual twist, Nishino steps away from the monochrome and uses colour film to recreate his Everest journey, resulting in threads of greens and reds and golds and slate greys.
'I have mainly worked in cities in the past, but I've also always been interested in nature,' says Nishino. 'Where my studio is located is very much surrounded by nature, near the sea. Nature has always been a familiar environment for me.'

Nishino admits the trip itself – from 2,860m to 6,000m with a photographic assistant and a Sherpa – was as tough as its reputation, with challenges such as intense altitude headaches and heavy photographic equipment (three cameras, three lenses and 250 rolls of film). 'The weight was really tough,' he says. 'Even walking ten metres was hard at times. When I'm walking in a city, I can always turn around and go back whenever I want to capture something with my camera. But on Everest, it's really hard to go back – you have to carry on.'
Nishino recalls how, as the journey progressed, he found his attention drawn not simply to the powerful physicality of the landscape, but also the people that inhabit it. 'The most astonishing thing for me was the everyday life of people,' he explains. 'Even as high as 5,000m, there was always life: people, shops where you can buy things, Wi-Fi. I was so fascinated by the everyday lives of people living in this environment.' But some traces of these daily activities were more painful to witness: 'I was really shocked by the rubbish – piles of PET bottles, plastic bags. It was really hard to see some horses and yaks eating it.'

Mountain Lines, Everest embodies all the experiences that Nishino encountered along the way – from the rubbish to the gradation of mountain tones, from lush green at the base to grey rocks at its upper levels, plus a small peak. 'The peak is intentionally tiny,' says Nishino. 'I didn't want to be too dramatic about Everest. Even when I climbed and moved, my perspective of the peak changed, with other mountains looking taller at times.'
The artwork is also lightened by flecks of clouds, created from photographs of the sky, a touch that evokes the stylised atmosphere of classical Japanese paintings. 'I've always wanted to do things the same way as ancient Japanese maps,' explains Nishino. 'Many have clouds, particularly classical paintings known as Yamato-e, which date back to the 12th or 13th century.'
The artwork took six months to make at Nishino's studio, a converted carpenter's workshop in the remote village of Heda on Izu Peninsula, south west of Tokyo, famous for its mountain forests, hot springs and, on clear days, distant views of Mount Fuji. It is his biggest work to date: the original collage, spanning 4.5m by 3.7m, is captured in a photographic print measuring 2.7m by 1.5m. The piece will appear in London alongside Nishino's A Journey of Drifting Ice, which charts the passage of ice floes along Russia's Amur River and into the Sea of Okhotsk, near northernmost Japan.
Thanks to another arduous physical journey – Nishino walked for up to seven hours a day in sub-zero temperatures – the ice floes' passage is immortalised in thousands of photographs, transformed into maps of two lands, tying together powerful themes of movement, nature and connection. Despite the visual differences between these nature-inspired pieces and the artist's city dioramas, at their core lie similar themes: the importance of the journey over the destination in a technology-saturated world. 'We have easy access to apps and Google maps, and so much information at hand about places before we visit,' says Nishino. 'But in using these methods to reach somewhere quickly, and perhaps taking a shortcut, we sometimes lose a sense of time and a sense of ourselves. People forget about the process and focus on the final point. I want to show the sort of sensitivity that we used to have towards the journey.'

Next up for Nishino is shooting Mount Fuji, as well as nomads in northern India. 'Before Everest, I was focused on cities and the people living there,' he says. 'But after making this work, I'm more interested in people living in nature, who are constantly moving. This movement is the very opposite of how we live in a city. By looking at how these people live their lives, I want us to reconsider our own.' §
As originally featured in the March 2020 issue of Wallpaper* (W*252)
INFORMATION
'Everest & Journey of Drifting Ice', 11 March-25 April, Michael Hoppen Gallery. michaelhoppengallery.com
ADDRESS
Michael Hoppen Gallery
3 Jubilee Place
London SW3 3TD
VIEW GOOGLE MAPS (opens in new tab)