Diller Scofidio + Renfro links Moscow's natural landscapes and urban life at Zaryadye Park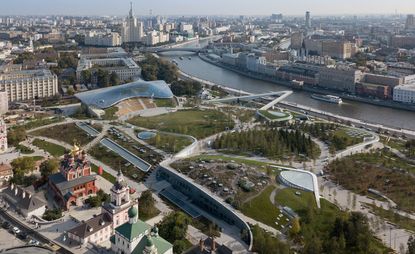 (Image credit: Photography: Iwan Baan. Courtesy of Diller Scofidio + Renfro)
The centerpiece of a plan to increase and enhance public space in Moscow, Zaryadye Park, located just steps from Red Square, St Basil's Cathedral and the Kremlin, is the first large-scale green to open in the city in the past 50 years.

But while it's called a park (and looks like a park), Zaryadye, designed by Diller Scofidio + Renfro together with Hargreaves Associates and Citymakers, is much more than that; stealthily encompassing five pavilions, two amphitheatres, a concert hall and an overlook cantilevering 70m over the Moscow River.

Charles Renfro, a partner at DS+R, calls this 'wild urbanism': a merger of nature and the city that was the primary focus of the design. 'We're mixing and intermingling the edges,' explains DS+R senior associate David Chacon, walking through the site's 14,000 sq m of enclosed space on a rainy day in mid-October.

The subtle (and sometimes not so subtle) merger of hard and soft is everywhere. Thirty-five acres of landscape winds its way down to the river, embodying several of Russia's different regional landscapes, including wetlands, tundra, steppe and coniferous coastal and birch forests. Around, over and under this varied composition, the buildings – including a media centre, science centre, underground museum, concert hall, market hall offering foods from around Russia and a new restaurant themed on Soviet space exploration – take on an eroded profile, their entryways curving and stepping down from the ground plane, their green roofs (often installed with large skylights) merging with and sometimes becoming hillsides themselves.
A hexagonal stone paving system further knits hardscape and landscape, gradually blending with grass, dirt, gravel, trees, shrubs and other plant life. A series of vista points provide a frame for the Moscow cityscape to unfold in often surprising ways. You can, for instance, gaze at Red Square from a mossy steppe that's actually the top of a building. Or – somewhat like an impressionist painting – through the triangular glazed panels of the 'Crust': a curved, partially enclosed amphitheatre at the park's eastern end that fuses with the 2,000-seat philharmonic concert hall on its far side.

The project sits on the site of the former Rossiya Hotel. It was overseen by Moscow's chief architect, Sergey Kuznetsov, who organised a competition drawing 90 submissions from 27 countries. The city, he says, intentionally sought to reach out beyond its local comfort zone, and chose to focus on the unifying power of the natural world over potentially divisive symbols of history and politics. It also wanted to create a much-needed connection between the city's centrepiece, Red Square, and the Moskva River. The reinforced concrete, boomerang-shaped cantilever does that in spades, and has become the park's must-visit destination. But just down the way, you can get lost in a colourful birch forest before getting a peek at the Kremlin, and then, around the corner, enter a building (then another, and another).

'I call it Moscow lost and found,' says Petr Kudryavtsev, a partner at Citymakers, the firm that consulted on urban design, programming and other key components of the park. Considering how your experience changes so profoundly moving through the new facility, it's a perfect description.
INFORMATION
For more information, visit the Diller Scofidio + Renfro website, the Hargreaves Associates website and the Citymakers website
Receive our daily digest of inspiration, escapism and design stories from around the world direct to your inbox