World's first floating island, Seoul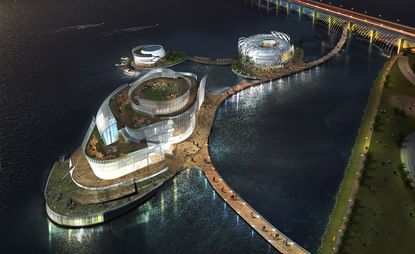 (Image credit: TBC)
Seoul hasn't rested on its laurels since winning the crown of World Design Capital 2010. This month it proved the scope of its architectural ambitions once again by launching the foundation for the world's first artificial floating island on Hangang River.
The steel-framed platform is the base of the first of three interconnecting islets collectively named 'Soul Flora' and conceived as spaces for cultural, entertainment and sporting activities. The island is part of a new surge of architectural projects that are transforming the city, including works by Rem Koolhaas, Zaha Hadid and Daniel Libeskind.
Once the upper section of the first islet is complete, it will be tugged from Dongjak Bridge to the new riverside Banpo Hangang Park. The remaining two islets will be launched in April and May 2010 and the whole project is expected to be finished in July this year.
Soul Flora is an $84 million project funded by the Seoul Metropolitan Government, based on an idea submitted by a Seoul citizen to 'Oasis', its online policy suggestion forum. It is one strand of a wider project to regenerate the riverside.
Named 'Viva', the first islet will be home to a range of cultural and entertainment activities. The largest of the islets will be 'Vista', featuring a large hall for plays, concerts, and festivals. The smallest island will be 'Terra', a base for sports and leisure activities, a club house and a dock for boats. Each islet will be anchored to concrete blocks on the bottom of the river and will have a combined area of 9,995 square metres.