Wildfire watchtower in Cyprus offers prototype for the future
Built for the Department of Forests in Cyprus, this watchtower by architecture studio Anastasiou Misseri has been recognised in the State Architecture Awards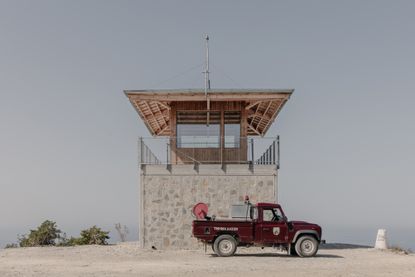 (Image credit: Photography: James Retief)
The Melanos watchtower by architecture studio Anastasiou Misseri stands tall amid the Mediterranean nature of Cyprus' Akamas National Park. Completed in summer 2022, the project was developed with a view to multiplying and expanding, designed and built as a prototype for successive towers of its kind in the region. This brief meant the architects had to create a concept without knowing where their structures might end up in the future – though all will maintain the same functionality, and use of natural, local materials in the design.
Melanos wildfire watchtower by Anastasiou Misseri
Run by Stephanie Misseri and Anastasiou Michalis, the young architecture studio is based in Nicosia and was founded in 2020. So successful was this scheme for the practice, that it led to a gong at the Cyprus State Architecture Awards. These annual recognitions comprise five categories and cover newcomers, collective housing and more; Anastasiou Misseri scooped a Young Architects Award. The practice also took part in the 10th Biennale of Young Greek Architects in 2021/22.
Raw stone and concrete make up the base of the structure, reflecting the materials in the surrounding environment. This base is composed of three separate elements, respectively containing the toilet, a water tank, and solar panel batteries and a curved staircase leading up to the second tier of the building. There, within a timber, metal and glass volume with cement flooring, the curved staircase structure softens the angular lines of the watchtower's overall outline, echoing the natural landscape.
The top of the watchtower comprises a glass sheltered compartment and wraparound outdoor space. There, a cantilevered roof ensures a clear panoramic view towards the surrounding nature. A roof of cross-laminated timber, seam zinc panels and thermally treated timber cladding crowns spruce plywood-lined interiors, which hold a compact kitchen and a bench – a simple but functional detail in this small but perfectly formed, soft-toned structure.
anastasioumisseri.com (opens in new tab)
Martha Elliott is the Junior Digital News Editor at Wallpaper*. After graduating from university she worked in arts-based behavioural therapy, then embarked on a career in journalism, joining Wallpaper* at the start of 2022. She reports on art, design and architecture, as well as covering regular news stories across all channels.
With contributions from