Tadao Ando and François Pinault win Best Double Act: Wallpaper* Design Awards 2021
Tadao Ando and François Pinault have been awarded the Best Double Act at the 2021 Wallpaper* Design Awards. Here, they discuss their joint work over 20 years, and the upcoming opening of the Bourse de Commerce in Paris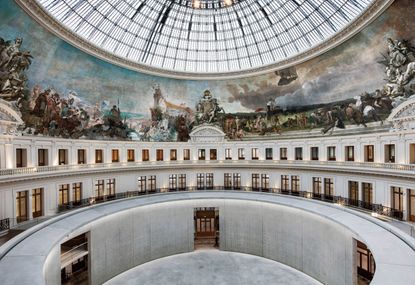 (Image credit: Patrick Tourneboeuf)
Due to open in 2021, the Bourse de Commerce in Paris is the latest home for François Pinault to show works from his phenomenal art collection. This is the third time the French businessman has chosen Japanese architect Tadao Ando to convert a historical building into a contemporary museum for his collection (following the Palazzo Grassi and the Punta della Dogana, both in Venice). We spoke with Pinault and Ando about this hotly-anticipated project and their 20-year relationship.

W*: In 2001, your competition for a [never built] museum on the Île Seguin attracted many prestigious architects. Why did you choose Tadao Ando?

FP: I wanted a museum that would transcend fashion and be timeless. Tadao Ando is an exceptional architect who seeks to trace a new path by combining Japan's rich traditions with the evolution of modernism in the West, creating harmony between the individual and his environment. He knows how to subtly create a dialogue between shape and time, between a building and its era.

W*: Mr Ando, you have designed several museums for foreign clients. What has been so unique about working with François Pinault?

TA: He fights with all his strength and does not give up without realising his dreams. I've always been impressed by his fearless thinking ever since we first worked together. An architect cannot make a building alone. It is the client's will and persistence that moves a project forward. Just as the Medici family served as benefactors of artists such as Michelangelo during the Renaissance, he has encouraged me through the work we endeavoured to create together.

W*: Why is Ando an ideal architect for keeping traces of history in a contemporary redesign?

FP: His architecture knows how to confront the past while expressing its own time. In all of the projects we have done together, he has carefully highlighted the historic layers of each place and, at the same time, created strong spaces that belong to our time and embrace the future.

W*: What aspects of his Japanese culture has he brought to the buildings in Venice and Paris, and where do both of your sensibilities meet?

FP: Ando brings qualities to all of his works that are the essence of Japanese culture and sensibility: a rejection of grandiloquence; a distrust of over-effusiveness; as well as rigour, radicality, less over more, silence over noise. He and I share the same minimalist sensibility. He believes that perfection is achieved by eliminating everything that is not essential. One must be able to abstract oneself in order to feel emotion.
W*: Mr Ando, how did you first have the idea for the central concrete cylinder?

TA: When I first set foot in the Bourse de Commerce, I was overwhelmed by the light streaming in through the dome and magnificent fresco. For me, the world inside this dome felt like a single universe. Immediately, the image of two circles formulated in my mind, one inside the other, which could become a frame for the universe that is the Bourse de Commerce.

W*: How does working on an existing – and historical – building compare to creating a totally new building from the ground up?

TA: I consider it vital to deliver a building that has been loved throughout history to the next generation. In Punta della Dogana and in the Bourse de Commerce, I inserted a new functional space within a historic building. A gallery of concrete. Each of these concrete interventions was determined by the shape and layout of the existing building. A square for Punta della Dogana and a circle for the Bourse de Commerce. I attempted to formulate a space for humans to contemplate the future within a stimulating environment, where old and new co-exist side by side. As preparation, I thoroughly studied the construction materials and methods, and repeatedly participated in a dialogue with the engineers. My definition of 'renovation' in architecture is to establish an exquisite and delicate balance between new and old. This can connect the past, present and future together and breathe new life into a space.
W*: Mr Pinault, what is your personal experience of the renovated Bourse de Commerce, and how would you like visitors to experience it?

FP: I'd like visitors to take the same pleasure that I do in crossing this building from one end to the other, to be enveloped by the prodigious concrete cylinder that Tadao Ando has built in the central space, to climb the stairs that wrap around this cylinder and discover the building's details in a way that was not possible before, to marvel at the criss-crossing perspectives, to be amused at seeing other people on the double-spiral staircase and knowing their paths won't cross. I hope visitors are impressed by the quality of the exhibition spaces, intrigued by the relationship between inside and outside, seduced by the furniture designed by Ronan and Erwan Bouroullec. I hope that every visit will be an opportunity for discovery and wonder.

W*: You have been working together for almost 20 years. Is it a purely professional relationship or have you become friends as well as collaborators?

TA: My decades-long collaboration with Mr Pinault has been a series of unexpected yet rewarding events. I first met him through Karl Lagerfeld more than 20 years ago. I worked with him for the first time when I won the competition for a contemporary art museum on Île Seguin. Unfortunately, this project's construction came to a halt for various reasons, and the museum went unrealised. I proceeded to complete a total of three successful projects with him in Venice. Around 2009 and 2014, I fell seriously ill and required multiple operations. After my recovery, I returned to architecture with a new vitality and visited Mr Pinault to tell him I was doing fine. On the spur of the moment, he consulted me about a new project, the Bourse de Commerce, and I put my full heart and soul into it. In my career, this series of projects with Mr Pinault holds a special place in my heart. I feel our bond has now exceeded the world of architecture and business.

FP: It is no longer just a business relationship, it goes well beyond that. We have known each other for more than 20 years. He has accompanied me on all the cultural projects I hold dear. We are somewhat alike. We are almost the same age, and both self-taught. He speaks neither French nor English, and I don't speak Japanese. There is always a translator, of course. But we understand one another quite well without the need for words. We speak with our eyes. What I like about him is the rigour of his work, his attention to detail, his refusal to compromise and his resilience. He has experienced some tough times, but he has never given up.
INFORMATION
Receive our daily digest of inspiration, escapism and design stories from around the world direct to your inbox