Bat Trang House named Best New Private House: Wallpaper* Design Awards 2021
The coveted Wallpaper* Design Award for Best New Private House 2021 shortlist spans continents, settings, materials and approaches, with a traditional Vietnamese shophouse near Hanoi scoring the win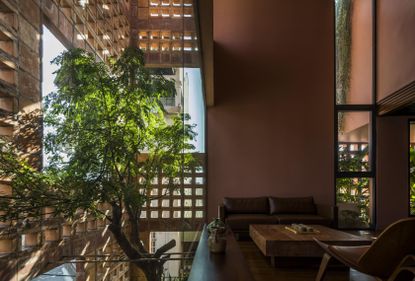 (Image credit: Hiroyuki Oki)
---
WINNER
---
Bat Trang House, Bat Trang, Vietnam
Vo Trong Nghia created this modern take on the traditional Vietnamese shophouse near Hanoi for an affluent artisanal family that produces high-quality ceramic products. Following the local vernacular, Bat Trang House combines commercial and residential spaces. The raised ground and lower ground floors serve as showrooms for the family to display and sell their products. Four additional private levels with a kitchen, living room, five bedrooms and several airy gardens sit above. The top floor includes a dedicated room for the family altar and an open-air swimming pool bordered by trees and plants. Vo wanted the personality and heritage of the craft village (Bat Trang, some 15km from Hanoi, is known for its ceramics production) to be evident in the architecture, so he wrapped the property in a wall made of perforated red clay ceramic tiles that he commissioned in the village. This ceramic cloak protects the house from the sun in the summer and from the wind in the winter, while the holes ensure that the house still gets plenty of natural light. Large gaps allow for the trees and plants from the elevated gardens to burst through the terracotta-coloured façade.
KEY FEATURES: red brick, outdoor/indoor relationship, lattice walls, live/work space, local craft
ARCHITECT'S PREVIOUS WORK: Diamond Island Community Centre, Ho Chi Minh City, Vietnam; Chicland Hotel, Danang, Vietnam; House for Trees, Ho Chi Minh City, Vietnam
---
SHORTLIST
---
Mole House, London, UK
Searching for her new home, artist Sue Webster was attracted to a derelict Hackney house that had previously made headlines for its eccentric owner, the 'Mole Man' – a landlord who had spent years burrowing a network of tunnels beneath the property. He had subdivided and rented it out in a haphazard way and with no planning permission, compromising its structure. Webster collaborated closely with Adjaye Associates, which redesigned the house. Burrows were plugged with aerated concrete and some 33 tonnes of debris were removed from the site. The design drew on archaeological processes. The house now spans three levels, with the top two dedicated to the residential part, including an expansive living room with large openings, two bedrooms and a study. The lower level hosts the studio space. The material palette is fairly restricted, ranging from exposed concrete and wood, to brick, but all decisions were about 'creating contrast, continuity or revealing authentic parts of history', explains Sir David Adjaye. Original masonry was preserved, exterior render was retained, and some 15,000 reclaimed bricks were used throughout. The interior was completely gutted and now a cross-shaped concrete structure in the centre of the plan helps divide different areas, as well as support the floors.
KEY FEATURES: concrete, wood and brick structure, raw materials, live/work space, renovation
ARCHITECTS' PREVIOUS WORK: Ruby City, San Antonio, TX, USA; Smithsonian National Museum of African American History & Culture, Washington DC, USA; Moscow School of Management, Skolkovo, Russia; Dirty House, London, UK
House of the Big Arch, South Africa
In House of the Big Arch, Johannesburg-based outfit Frankie Pappas sought to both sensitively and spectacularly introduce a newly constructed home to a wild South African forest. The building's frontage reads like a vertiginous tree trunk and the project is organised as one long, thin (just 330cm wide) building so as not to interfere with any existing sylvan activity – not a single tree was demolished during the process. The structure is made of weathered-looking, bark-toned, rough stock brick, which will both reference and complement the sandstone of the Waterberg Mountains in the surrounding bushveld nature reserve. A raised living space reaches high up into the tree canopy and its roof is planted with endemic grasses, succulents and shrubs. Frankie Pappas is a freeform group, 'fictional persona' and 'collective pseudonym' that encourages coders, engineers, mathematicians, artists and managers to work with draughtsmen and architects to make 'remarkable spaces'. 'This is a home that disappears into the landscape;
that sits amongst the rocks and trees and birds; that offers animals and plants and humans equal opportunity to find shelter, that treats the bushveld with its deserved respect,' say the designers. 'We cannot ever divide architecture, landscape and gardening. They are one.'
KEY FEATURES: weathered brick, natural setting, environmentally friendly
ARCHITECTS' PREVIOUS WORK: House with a Yellow Wall, Johannesburg, South Africa; House with the Tall Chimneys, Waterberg, South Africa
Barghouti House, Jordan
Massive, monumental and hunkered into the hillside, this concrete behemoth, hand-sanded to an almost fleshy finish, is the work of architect, urban theorist and painter Sahel Al Hiyari. Barghouti House blends a modernist form with an appreciation for the archaic, inspired by what the architect terms Jordan's 'almost indecisive identity' – its millennia of cultural influences (Bedouin, Nabatean, Roman, Umayyad and Ottoman, through to the 20th century's 'isms'). The structure, which has a sense of timelessness, is conceived as a collection of massive slabs that appears monolithic but also weightless. Seen from the rear, the point of entry, the building is an almost windowless layering of dynamic floating angles, solid floor plates and cantilevered sculptural massing, and doesn't initially read as domestic. Vast mirrored doors reflect the landscape. A courtyard separates two bedroom wings. The warm wood panelling and spare but inviting interiors are a collaboration between Al Hiyari and Lebanese design duo David/Nicolas. Soft light filters through skylights, lightwells and the deeply recessed floor-to-ceiling windows that open onto the pool, more gardens and the panoramic views over the surrounding hills. A modest ceiling height of 2.3m creates a sense of compression that guides the eye out towards the vistas. Landscaping is by Lara Zureikat.
sahelalhiyari.com; davidandnicolas.com
KEY FEATURES: brutalist architecture, concrete, indoor/outdoor relationships, minimalism
ARCHITECT'S PREVIOUS WORK: A Shaban House, Amman, Jordan; T Bdeir House, Amman, Jordan; Amman Design Week exhibition design
PW house, Ontario, Canada
Toronto-based Brigitte Shim and Howard Sutcliffe started working on the masterplan of this five-acre plot on Point William, Lake Muskoka, in 1997. This house – the main one in the compound – is the latest addition to the larger project that serves as an extended family's weekend retreat. The architects' scheme unfolds cinematically, as a succession of vistas. The house is clad in rough-hewn blocks of local stone, self-rusting steel and ipe wood – materials that require no maintenance and are already beginning to weather. They sandwich a band of glass, shaded by irregularly spaced mullions, and this horizontal layering of materials breaks up the mass of the 6,500 sq ft house. Terraces take up the north and east corners of the building. A feeling of tactility enhances the spatial drama of the interior, with its snug bedrooms, expansive kitchen and lofty living spaces. Shim-Sutcliffe has brought rusted steel inside, but with the texture of smooth leather. Boldly grained Douglas fir clads the ceiling; straight-grained fir is employed for panelling and cabinetry. Granite, quarried in Quebec, reveals a watery pattern on the floor and turns soft grey when flamed for the hearths. Natural light washes some surfaces, reflects off others, highlighting details and constantly changing.
KEY FEATURES: timber architecture, craftsmanship, sense of place, tactile surfaces
ARCHITECTS' PREVIOUS WORK: Integral House, Toronto, Canada; Laneway House, Toronto, Canada
INFORMATION
Receive our daily digest of inspiration, escapism and design stories from around the world direct to your inbox