U-Bahn: an architectural patchwork of Berlin's history
Blue Crow Media's Berlin U-Bahn Architecture and Design Map is an ode to the multiple intersections found in Berlin's underground design histories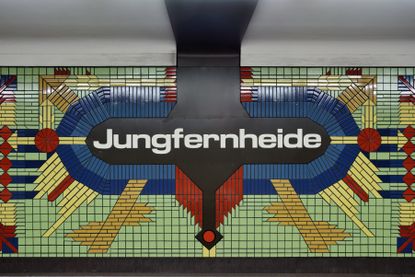 (Image credit: Nigel Green)
If there is one place that can tell the story of Berlin's complex history through design, it is the city's underground system; and it is exactly this part of design and infrasturcture heritage that the latest addition to architecture books publishers Blue Crow Media's 20th century series on architecture guide maps explores. The newly launched Berlin U-Bahn Architecture and Design Map is a collaboration between Berlin architecture historian Verena Pfeiffer-Kloss and photographer Nigel Green.
Connected by almost 150 kilometres of track, the U-Bahn is a mostly underground network that hosts up to 530 million passengers a year. From the subway's pre- and postwar expansion to Berlin's unification, this publication offers us an insight into the architecture of a selection of fifty stations built from 1902 to 2009. The map is a vibrant visual reading of the whole city's design history told through the intimacies of architectural features and details, such as typefaces, tile patterns and material colour palettes, reflecting on Berlin's social, political and economic past.
Through this playful storytelling, we are whisked into the dynamic aesthetics of the subway system - from the muted tones and brutalism of 'the ghost stations of East Berlin, to history lessons at Heidelberger Platz and fairy tales at Paulsternstraße,' explains the publisher.
The publication highlights the influential work of architects such as Alfred Grenander and Rainer G. Rümmler, who both left a lasting impact on the architecture of the U-Bahn transit network. On top of being the inventor of Kennfarben, the colour coding on the underground system still in use today, Grenander was heavily influenced by the Jugendstil, Art Nouveau, Futurist and Modernist movements at the time, with one of his most famous station designs being Alexanderplatz. Rümmler is perhaps best known for his colourful, bright and bold mosaics and platform murals that we see in stations like Fehrbelliner Platz and the colourful glazed ceramic tiles of stations such as Jungfernheide.
Published in English and German, the map includes an introduction, original photographs by Green and texts accompanying each of the stations in it. It is testament to the design value, rich, layered information and joy found in one of Berlin's most important transit systems; an ode to the multiple intersections found in Berlin's underground design histories.
INFORMATION
bluecrowmedia.com (opens in new tab)