Tsutaya Books by Klein Dytham Architecture in Tokyo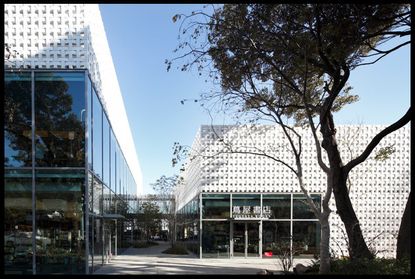 (Image credit: press)
All eyes were on Japan's leading book, music and movie retail giant, Tsutaya, as the doors to T-site - promising a new vision of the future of retailing - opened in Tokyo in mid-December. The innovative new-generation complex has already confounded the recent dismal trend of bookstore closures with its creative combination of classic and cutting edge shopping, dining and entertainment with exceptional design.

Located in Tokyo's up-scale Daikanyama shopping district, the site combines three low-slung elegant pavilions connected via a 'magazine street' providing a smooth integration of the interior and landscaped outdoors within a relaxed village-like setting. The 'library-in-a-forest' design concept was created by Tokyo-based British architects Klein Dytham Architects who won the design commission from a star-studded list of 70 Japanese architects thanks largely to their witty reflection of the well-known eponymous brand in the T-inspired site layout, building shape and distinctive logo-perforated screen facade.

'We were not the favourites to win the design competition,' says Kda founder Mark Dytham, 'but integrating the brand into the very fabric of the site and structure appealed to Tsutaya's owner, Muneaki Masuda, who wanted to do something completely different. This is also the case with the interiors, for which we worked closely together to create a new cultural experience.'
Masuda delisted the company from the Tokyo Stock Exchange so he would have complete freedom over the design and content of the project. Happily, the result is an enticing showcase of Tsutaya's art, design, fashion and travel books and magazines, together with a luxury convenience store and a jazz club bar lounge, all with an unusually spacious and curated feel.

The complementary blend of old and new from print to digital media is seamless: RIFID tagged books and DVDs, iPads, DVDs burnt onto disc while you wait, self-service check out consoles, and people tracking are satisfyingly efficient but unobtrusive. Sandblasted wooden flooring, retro leather furniture, and an interesting selection of vinyl and classic artworks together with highly experienced staff (there is even a dedicated in-house travel concierge) are reassuringly familiar.
A hammered-steel central staircase created by Japanese craftsmen provides a statement entrance to the upstairs Anjin lounge bar and performance space with its vast selection of vintage design magazines and books. KDA's sure handed design is again evident here with their bespoke book-lined bar and tables.

Elsewhere, custom-designed displays like floor-to-ceiling glass towers displaying beautifully crafted pens and the stylish graphics by Muji art director Kenya Hara transform the shopping experience.