'The Way We Live' by Iwan Baan at Perry Rubenstein Gallery, Los Angeles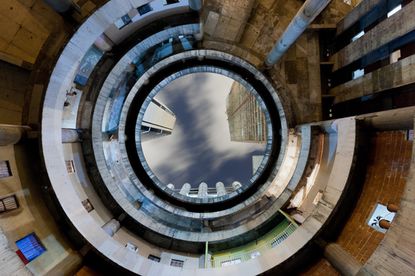 (Image credit: courtesy of Perry Rubenstein Gallery, Los Angeles © Iwan Baan)
Leaf through the pages of any architecture magazine and chances are you'll come across a photograph by Dutch photographer Iwan Baan (opens in new tab). After just eight years in practice, Baan has set himself apart by adding a human element to the architectural works of such heavyweights as OMA (opens in new tab), SANAA (opens in new tab), Zaha Hadid (opens in new tab), among others.

Fresh from winning a Golden Lion at the Venice Architectural Biennale (opens in new tab) alongside collaborators Urban Think Tank (opens in new tab) and Justin McGuirk (opens in new tab) for his documentation of Torre David, an abandoned skyscraper in Caracas, Venezuela colonised by locals, Baan makes the jump to fine art photography with 'The Way We Live' opening at the Perry Rubenstein Gallery (opens in new tab) in Los Angeles.

The two-month exhibition looks back at Baan's practice with large-scale prints of selected works throughout his career. At the forefront is 'The City and the Storm,' his powerful image of Manhattan in the throes of Hurricane Sandy. Printed in a limited edition of 10, 'The City and The Storm' will be sold for $100,000 each to benefit the Mayor's Fund To Advance New York City (opens in new tab) in support of Hurricane Sandy relief efforts.

Wallpaper* caught up to Baan in anticipation of his exhibition…

How do you approach your photography?
My background is more documentary photography. I fell into the architecture field by accident when I was starting to work with Rem Koolhaas on the CCTV Towers. I think it's important in photography to give a better understanding of place in order to give these overviews. I'm always fascinated by the old Japanese drawings where you see this amazing landscape of things happening in the foreground slowly moving to the horizon in the background. It's the way I construct my pictures as well. I like taking it from a higher standpoint starting with a ladder or climbing scaffolding or even getting into a helicopter.

A helicopter proved invaluable when you took what is now 'The City and The Storm'. What did you feel when flying above Manhattan at the time?
The strange thing is that in a way, I was unconsciously completely prepared for that picture. I fly a lot by helicopter over New York. In my mind, that was the only way to show the city divided in half, the fully thriving New York and the New York without any power. I have taken that picture a couple of times before from exactly that same point of view, but not under those circumstances. This picture was a natural way to show New York as an island. I didn't really realise the impact of the picture until after it was published and the whole world saw it.

Could you tell us about your chosen theme, 'The Way We Live'?
It's the theme that runs through all my work. My interest from very high-end architecture to completely informal housing and how people construct their environment themselves is very important. I've done a few shows, but this is my first large overview show to go back eight years of practice and pick important works that really tell a story of how I look at the built environments and the way people live - from someone in their condo in Fifth Avenue to a little hut in Africa.

And it's all large-format photographs.
Yes. The space is very bright, large and open. It lends itself to large-scale works. A lot of people know my work from a one-quarter page or a spread, but it's very different to see the work in a large size. You can really dive in.

Aside from this exhibition, what other projects are you working on?
Right now I'm working with Harvard University (opens in new tab) on a book on the Kumbh Mela festival in India. It's this extremely bright and colourful festival where the holy figures from India all come together. When they do, the largest temporary megacity ever built is constructed over one and a half months and it stays there for two months and then disappears completely. It's fascinating.
ADDRESS
Perry Rubenstein Gallery
1215 N. Highland Avenue
Los Angeles CA 90038
VIEW GOOGLE MAPS (opens in new tab)