All aboard: plans revealed for London's underground Mail Rail tunnels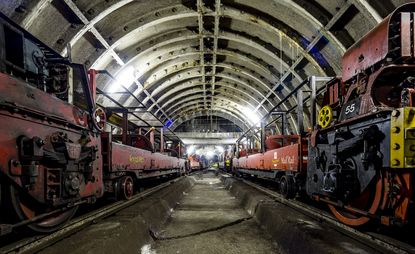 (Image credit: Miles Willis, The Postal Museum)
Located in the depths below the Mount Pleasant Mail Centre in Clerkenwell, the Royal Mail's Mail Rail is one of London's greatest subterranean secrets. A 6.5 mile long series of underground tunnels and railway lines, it transported post and packages from Whitechapel to Paddington from 1927 until 2003, all inter-linked and accessible from a series of sorting offices along the route.

It was notably the world's first driverless and electric railway. The initiative was sadly scrapped in 2003, and the workforce - once 200-strong - is now reduced to three people, who occasionally man the stations and carry out necessary engineering maintenance.

Things, however, are about the change. Thanks to the National Lottery's Heritage Fund, the Mail Rail has now received funding of £26m to construct an accompanying Postal Museum and to reopen a small section of the Mail Rail network and its facilities to celebrate this unique historical rail project.

The centre, due to open in 2017, will no longer be transporting mail, but will finally become accessible to the general public for the first time in its 100-year-old history, showcasing the rich legacy of the Royal Mail, while also offering the exciting opportunity to ride a 1km portion of the small scale tunnels.

The Postal Museum, set to located a short walking distance from the tunnel, will 'reveal five centuries of British social and communications history' viewed through the eyes of the postal service. Designed by Feilden Clegg Bradley Studios, the centre will provide temporary and permanent galleries, a learning hub, state-of-the-art research facilities and a post-themed, family play area, which hopes to attract 186,000 visitors and 10,000 students within the first year alone.

A groundbreaking opening ceremony, located underground within the Mail Rail network, has just been held to mark the start of construction, attended by director of postal heritage Adrian Steel, historian Dan Snow and Stuart Hobley of the Heritage Lottery Fund.
INFORMATION
For more information, please visit the Royal Mail website

Photography: Miles Willis, The Postal Museum