Wood works: Seilerlinhart Architects' ode to timber completes in Switzerland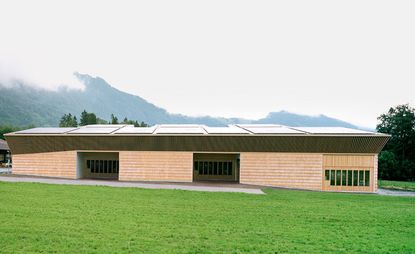 (Image credit: Rasmus Norlander)
Sustainable forests in the mountainous region surrounding Lake Lucerne cater for Switzerland's thriving wood processing industry. Tucked in the southwestern corner, the Swiss Commune of Alpnach is home to the production plant of Walter Küng AG. The carpentry firm developed a system in which prefabricated wall, roof and floor elements are assembled from 100 per cent untreated timber and connected by wooden dowels, requiring a factory extension to commence production.

The Wooden Hall (or Factory 3 as it is often referred to) by Lucerne based Seilerlinhart Architects, is designed to reflect the factory's sustainability agenda. The 2,535 sq m single storey production facility is constructed almost exclusively in locally sourced spruce and fir, showcasing the versatility of timber as a renewable material. Clad in large format spruce shingles and topped with a rhythmically slatted cantilevering fascia, the elongated hall is a celebration of timber construction techniques, scooping the 2015 Prix Lignum regional Swiss wood award for its efforts.

The vast shed, supported by an impressive glulam frame and lined in spruce and pine, capitalizes on fresh air and daylight with three northern skylights and large areas of glazing. The green buck doesn't stop there; electricity is generated from photovoltaics on the pitched roof, and heat is provided by a central wood chip boiler. With the increasing importance of renewable materials, this is a factory that practices what it preaches.
INFORMATION
For more information on Seilerlinhart Architects, visit their website (opens in new tab)