Past perfect: Studio AR.CH.IT unveils Cavallerizze renovation in Milan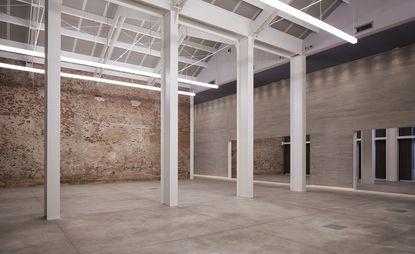 (Image credit: Henrik Blomqvist)
The old Austrian Stables building (known as the Cavallerizze), located within the Museo Nazionale della Scienza e Tecnologia Leonardo da Vinci in Milan, has just been given a new lease of life, courtesy of Italian studio AR.CH.IT, headed by Luca Cipelletti.

The structure, which sits on a 40,000 sq ft plot, was originally part of a 16th century monastery belonging to the order of the Olivetani, who occupied the site until the 18th century. In the beginning of the 19th century, the space was transformed into Austrian military barracks, with the stables built as an addition to the former monastery's gardens.

Allied bombing during World War II caused critical damage to the original structure, rendering the collection of buildings unusable until a site-wide structural renovation by the architects Piero Portaluppi, Enrico Agostino Griffini and Ferdinando Reggiori in the early 1950s. And while the facilities opened as the Museo della Scienza to the public in 1953, the stables remained neglected and in a state of disrepair ever since.

This, however, is about to change. This historic renovation sees the Cavallerizze being transformed into a new pavilion for hosting exhibitions and events, acting as a link 'between the museum, the city, and the new metropolitan infrastructure.' The design development by studio AR.CH.IT was overseen by the Segretariato Regionale of the province of Lombardy, while Daniela Lattanzi looked after the site's historical preservation.

The team's main objective was to highlight the site's existing elements, such as the arched windows and the unique structural roof system of wooden trusses. Two of the six stables, which were superficially renovated in the 1950s, were the only ones that exist in their entirety. Their trusses and stone supports were refreshed and the large openings above the portal arches were reopened.

The four stables near Via Olona, however, needed a full structural rebuild. Studio AR.CH.IT integrated the new brick walls almost seamlessly, ensuring the new parts are subtly distinguishable against the old.

The structure's new roof is made of self supporting metal sheet that secures good insulation and soundproofing. Drawing on the complex's existing style, the new building blends well with its context. Soft colour tones of white and grey were chosen to highlight the Cavallerizze's exposed raw brick, showcasing it as the stable's primary interior feature.
INFORMATION
For more information on the Cavallerizze please visit AR.CH.IT's website

Photography: Henrik Blomqvist