Stedelijk Museum, designed by Benthem Crouwel Architects, Amsterdam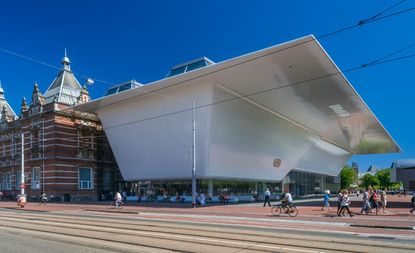 (Image credit: John Lewis Marshall)
Stedelijk contemporary art museum reopened in Amsterdam this week after a major renovation and expansion, and a near nine-year closure. Dubbed 'the Bathtub' by locals, it seems ideally shaped to carry on the popular tradition of nicknaming extraordinary modern structures after ordinary household items.

Designed by Mels Crouwel of of Amsterdam architecture practice Benthem Crouwel, the sleek, 10,000sq m synthetic-fibre extension succeeds in accomplishing what architect AW Weissman's original Victorian-era red-brick building increasingly could not. It provides vaulted, spacious galleries, one of which is the largest in the Netherlands, and streamlines movement between them via a 'tube' of escalators that allows visitors to bypass the crowded administrative areas between exhibits.
The new structure incorporates a restaurant with a terrace and a sunken library. And it pivots the museum's foyer toward the green of the Museumplein - also home to the Van Gogh museum and Rijksmuseum - rather than to the noisy, tram-packed street.

Stedelijk's new glass foyer features the museum's latest purchase, Richard Serra's steel-plate 'Sight Point (for Leo Castelli)'.

The white tub, composed of a record 271 panels of Twaron aramid fibre and Tenax carbon fibre, is likely to become a new icon even in Amsterdam, a city in which contemporary monuments debut almost monthly. But it does nothing to obscure the original building, whose grand entry hall and statement staircase are still highlights of the Stedelijk experience. The traditional building will house the museum's permanent collection of 90,000 objects dating from the 1870s; new acquisitions include Marlene Dumas's controversial 'Osama' and Luc Tuymans's 'HM'.

Temporary exhibitions will launch in the new annex, starting this week with 'Beyond Imagination', a tribute to contemporary Dutch art featuring home-grown working artists.
ADDRESS
Museumplein 10
Amsterdam