Site Gallery in Sheffield is redesigned by DRDH architects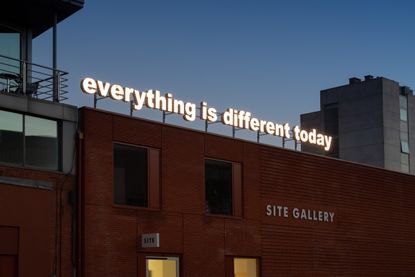 (Image credit: Jules Lister, Site Gallery 2018)
DRDH architects has redeveloped Site Gallery in Sheffield to open up new, extended gallery space, a café, shop and offices. A ribbed red brick façade offers a new face for the gallery, while the interior combines concepts from Konrad Fischer's classic white cube with the architects' experience of working on cultural buildings in northern Europe.

Site Gallery is a contemporary institution embedded within Sheffield's arts scene, culturally working with emerging artists and new media – and physically, as part of a wider complex of creative offices owned by Sheffield City Council.

On taking on the gallery redesign, DRDH also took on this Edwardian era complex last renovated in the 1990s. A process of replanning, rescaling and redesigning consolidated the haphazard network of spaces into a 'readable', public facing and contemporary art gallery worthy of its role as a cutting-edge 'Kunsthalle' for Sheffield – and created a central entrance to the offices and recording studios tucked behind and above the new Site Gallery space.
Architects David Rosbottom and David Howath, who founded DRDH in 2000, describe the process as akin to creating a small masterplan. Site Gallery's exhibition space grew threefold from their clever reorganisation. Thirteen street-facing doors and a vehicle entrance were redistributed so the gallery could have one singular façade, punctuated by windows into the café and exhibition spaces.

Inspired by the 'Kunsthalle' typology found across second cities in Europe, the architects wanted a building that was outward facing, public, friendly, yet also completely cutting-edge in its facilities for displaying contemporary art in all its forms. The pair questioned architecture writer Kenneth Frampton's view of the white cube gallery as an 'un-situated' space in the city. Instead, they wanted to place the gallery specifically in Sheffield: 'It's like no other public contemporary art gallery institution in Sheffield. It has to do a lot for the city,' say the architects.
Importantly, the architects gave the façade an identity – a whole new character for the city and the Cultural Industries Quarter in Sheffield where it now rises to its role between the Persistence Works artists' studios, the former 'National Centre for Popular Music', now a student hub for Sheffield Hallam university, and the neighbouring Showroom cinema and Workstation offices (where DRDH once had a studio space in the mid-1990s).

Danish red brick extends across the 37m façade, structured with a ribbed pattern. A text work reading 'Everything is different today' is balanced on the top of the building by artist Tim Etchells and a black and white abstract mural painted by artist Paul Morrison on one end of the building. The bricks chosen were fairly cheap and smaller than the standard size – 50mm wide instead of the usual 75mm. The material was chosen for its 'haptic quality' that DRDH describe as 'a perpetually unfinished surface' that they saw in the existing Edwardian architecture in Sheffield – yet also found in the historic walls of San Lorenzo in Florence too.

Due to the City Archives being beneath the building, the red brick façade rests on steel bracket support, which the architects link to the modernist steel constructions of Peter Behrens and Mies van der Rohe – just one example of how the architects have creatively and thoughtfully approached constraints across the whole project.
Inspired by the work of Belgian architect Jan De Vylder's skill of creating thoughtful details in space that add intrigue, they kept asking themselves, 'How do you create a presence and a character on a budget?'

Colour was one of these methods. DRDH used a warm yet powerful red-oxide paint on elements of exposed structure across the design from the exterior metal shelf to interior pieces of preserved original structure that serve to unify the history of the building with its contemporary white cube aesthetic. A red grouting in the otherwise white tiled bathrooms is another moment where character is added through colour.

The main gallery space itself is huge, with 5m high ceilings, stretching 262sqm, and at the far end a roof light extending the width of the gallery casting a sculptural shaft of light, indirectly cast into the space. Ceiling rails for adaptive displays and fluro lighting demonstrate the contemporary nature of the space designed for flexibility and new media.
Rosbottom references Konrad Fischer's Dusseldorf gallery that set the parameters for the 'white cube' style space in the 1980s. Within their process, the architects worked extensively with models, understanding how plasterboard walls could adapt the experience of space. Proportions were shifted, ceilings were lifted and levelled, light channeled in new ways and spaces aligned.

DRDH has worked extensively in northern Europe, working on a concert hall and city library in Bodø in Norway, Bijloke concert hall in Ghent, the Bourla Theatre in Antwerp and a new entrance for St Martin's Cathedral in Ypres. From working in Europe, the pair has become used to project managing as well as architecture with their team of 12 people. 'We are a European office' says Howath, who explains how this European approach to building has given them experience of cost and management, as well as design – skills they brought to the Site Gallery project. Reliant on an Arts Council grant, the overall project cost amounted to about a third of the cost of a normal gallery space.

DRDH's practical and characterful design provides a new architectural platform for Site Gallery that elevates it to the international stage, while helping it continue to perform a national and local role for the UK and Sheffield.
INFORMATION
For more information, see the Site gallery website (opens in new tab) and the DRDH website (opens in new tab)
Harriet Thorpe is a writer, journalist and editor covering architecture, design and culture, with particular interest in sustainability, 20th-century architecture and community. After studying History of Art at the School of Oriental and African Studies (SOAS) and Journalism at City University in London, she developed her interest in architecture working at Wallpaper* magazine and today contributes to Wallpaper*, The World of Interiors and Icon magazine, amongst other titles. She is author of The Sustainable City (2022, Hoxton Mini Press), a book about sustainable architecture in London, and the Modern Cambridge Map (2023, Blue Crow Media), a map of 20th-century architecture in Cambridge, the city where she grew up.