Rebuilt Shigeru Ban houses launch at the architect's Simose Art Museum in Hiroshima
A series of rebuilt Shigeru Ban houses become available to experience and rent at the Simose Art Museum, designed by the same architect, in Hiroshima, Japan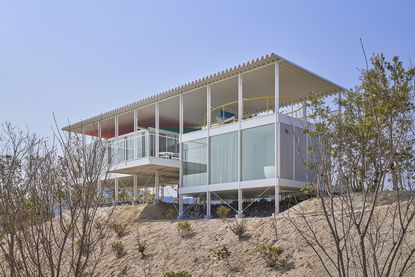 (Image credit: Simose Art Museum)
With the opening of a series of Shigeru Ban houses at the ambitious Simose Art Museum project outside of Hiroshima, fans of the architect now finally have an opportunity to experience some of Japanese architecture's most iconic homes first hand. The new museum, also created by the architect and opening on 1 April 2023, offers a holistic experience of Japanese design, art, craft and Shigeru Ban's work.
Shigeru Ban houses at the Simose Art Museum
With three sides made entirely of floor-to-ceiling sliding glass doors, Wall-Less House by Ban, originally from 1997, does indeed appear to be little more than a slab floor and floating roof. The windows open wide to blur the border between inside and out.
The architect's Paper House, built using 110 paper tubes, with a single oversized one housing the toilet, is a testament to the architect's well-known fascination with the particular material – and a true joy to experience up close.
There is also Ban's Furniture House, where closets and bookcases double as structural elements, and the House of Double-Roof, originally built near the shores of Lake Yamanaka. It features an outdoor Jacuzzi tub with splendid views out on Hiroshima Bay and the nearby Miyajima island.
All of these projects were originally constructed in the 1990s as private vacation homes, typically off limits to the general public, and have since been demolished. Now, they have been given a new lease of life, rebuilt and only slightly modified, as part of Simose's family of ten standalone villas that become available to rent, allowing guests to stay in one of the iconic Japanese houses.
Accompanying the four rebuilt villas in the museum's garden area, the striking colours of Ban's brand new Cross Wall House make it stand out in its serene surroundings. At the other end of the campus sit five newly designed Waterfront villas that make use of an Austrian timber construction element called Kielsteg.
Sitting at the heart of it all, the Simose Art Museum spreads across an impressive oval entrance hall supported by two trunk-like columns, a large exhibition space and eight floating reconfigurable cubes that will be used to display the varied art and craft collection of the museum.
'I wanted to make a museum that could change shape, to create a new experience for the visitors upon revisits,' Ban explains. Moving the brightly coloured cubes around requires the water level in the manmade pond they sit in to be raised before they are pushed by hand, but allows the museum a wide variety of exhibition options.
With easy access from nearby Iwakuni airport, Hiroshima City centre and picturesque Miyajima island, Simose is sure to become a popular stop for visitors to Japan and locals alike.