Shigeru Ban on his masterfully minimalist interiors for Cast Iron House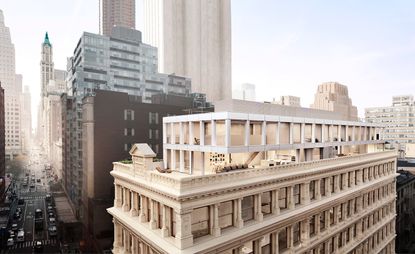 (Image credit: Hayes Davidson)
Shigeru Ban likes to keep us guessing. The Pritzker Prize winner is best known for his radical tectonic experiments with materials like paper, wood and PVC plastic, and for his temporary designs for refugees and victims of natural disasters. But for his latest effort, Ban has created ultra-luxury condominiums inside a renovated 1881 cast iron building in Tribeca.

Cast Iron House, as the six-storey project is called, consists of 11 lofty duplex residences and two glass and steel penthouses, supported by cantilevered trusses. The building's exterior has been immaculately restored—for instance, some 4,000 pieces of the building's façade were recast at a foundry in Alabama, while the industrial-sized curved windows maintain their original sizing.

But the white, miminalist interiors are completely new, with Ban matching newly-formed floor slabs (there were originally no duplexes or mezzanines) with the original building line and designing every minute detail, including door handles, hand rails, sculptural kitchens and bathrooms and seamless joinery.
'I wanted to create a contrast between the old exterior and the new interior,' says Ban. 'Designing something old-fashioned for me is fake. Making this contrast is, I think more contextual.'

Spaces smoothly flow into each other, with as few dividing walls as possible. Most of the solid barriers are furniture, cabinets, or closets; a device, said Ban, inspired by his Furniture Houses, known for using storage as structure. 'I call it invisible structure,' says Ban. 'I try to minimise materials and eliminate unneccessary elements like walls. If there's a cabinet it can work like a wall.'

As for this foray into work for the very wealthy, Ban doesn't see any break from the rest of his oeuvre. 'For me there's no difference. I'm just interested in providing space people need. The importance of a project has nothing to do with the budget.'

While the project exudes simple elegance, Ban still managed to sneak in some subversive experiments. Because new floorplates didn't always match up with existing windows, a few apartments' glazing sits by your feet, creating very unusual views. As for those penthouses, which open completely to the city via folding glass doors, they're the ultimate expression of diversion from the historic fabric.

'We're articulating the separation,' says Ban, who, by the way, is now designing semi-permanent housing for South Sudanese refugees, combining new concepts with local building technologies and materials. So much for getting comfortable.
INFORMATION
For more information, visit the Shigeru Ban Architects website