Big reveal: Serpentine Pavilion and four Summer House designs unveiled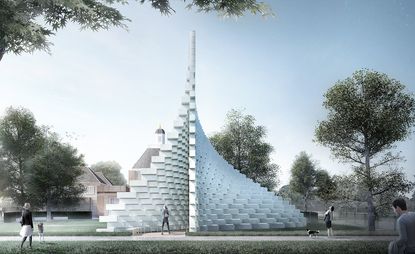 (Image credit: Courtesy Bjarke Ingels Group (BIG))
Earlier this month, news of the expanded Serpentine Pavilion sent ripples of excitement through the capital, and now we've been granted a first look at the main pavilion and accompanying four Summer Houses taking shape this summer.

The main event, Bjarke Ingels Group's (BIG) pavilion, 'embodies multiple aspects that are often perceived as opposites: a structure that is free-form yet rigorous, modular yet sculptural, both transparent and opaque, both solid box and blob', explains the practice. An 'unzipped wall' transforms from a straight line into a three-dimensional space, creating a dramatic structure with multiple uses.

The Summer Houses, although smaller in scale, are by no means simpler constructions. Kunlé Adeyemi's design pays tribute to the historic Queen Caroline's Temple – a summer house built close to the then recently created Serpentine in 1734, attributed to William Kent– with a clever inverse replica. Prefabricated sandstone building blocks will create abstracted forms to create a room, a doorway and a window, exposing the structure's neo-classical plan, proportions and architectural form in a playful manner.

Also paying tribute to the Temple, but concentrating more on the dialogue between it and its surrounding scenery, Asif Khan's Summer House will revive a picturesque moment from 300 years ago though polished metal surfaces and undulating timber staves. 'Through sun path analysis I realised that Kent aligned the temple toward the direction of the rising sun on 1st March 1683, Queen Caroline's birthday,' explains Khan; an effect that would have been amplified by the reflection off the lake at the time, although now obscured by John Rennie's 1826 bridge.

Taking inspiration from another lost moment in time, Barkow Leibinger's design is modelled on a now extinct, hill-top pavilion also created by William Kent. 'We have designed a Summer House in-the-round, conceived as a series of undulating structural bands,' explains the Berlin-based practice. 'The logic of generating a structure from loops is a self-generating one and comes from the idea of coiling material in your hands then stacking the coils upon each other.'

The fourth and final Summer House takes a more conceptual approach, building upon Yona Friedman's 1950's project 'La Ville Spatiale'. 'The manifesto for this project was based on two pillars or principles,' explains the Hungarian-born French architect. 'Firstly, a mobile architecture that could create an elevated city space and enable the growth of cities while restraining the use of land; secondly, the use of modular structures to allow people to live in housing of their own design.' Using a 'space-chain' conceived for that project, her Serpentine Summer House will be a modular structure of rings.

Engineering and all technical services will be jointly provided by AKT11 and AECOM, with the pavilions due to be unveiled on 10 June.
ADDRESS
Serpentine Gallery
Kensington Gardens
London, W2 3XA