Sea change: a new show at Antwerp's MAS Museum tells the story of two port cities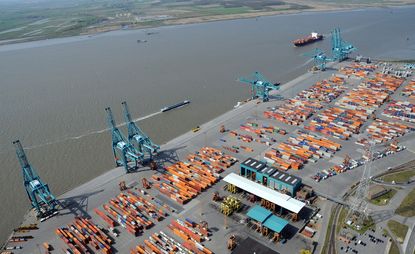 (Image credit: Gemeentelijk Havenbedrijf)
Situated at the crossroads of two continents, for centuries Istanbul has served as a gateway from Europe to Asia. Similarly Antwerp has been shaped by its proximity to the water, slowly but surely establishing itself as an international port with a rich and diverse cultural framework. Of course, despite the two port cities' parallels, they are also profoundly different, each possessing their own unique characteristics. It is exactly these similarities and differences that a new exhibition called Port City Talks, at Antwerp's MAS museum (opens in new tab) sets out to explore.

Curated by Turkish architect Murat Tabanlıoğlu (opens in new tab) as part of Brussels' Europalia Arts Festival, Port City Talks gathers new works by a team of emerging digital artists who have each created a piece that explores Istanbul and Antwerp's links to the water. Encompassing video, film, photography and installations, the exhibition, Tabanlioğlu says, was a team effort: 'Normally artists make their own exhibitions, they have total freedom. Here we are thinking together. I am not saying to them 'make this photograph, make this picture', they bring their own style and freedom but we are playing for the same team. This is very important. For them it's a new way of working, which is not very easy for an artist.'

The result is a conversation-starting show that demonstrates how both port cities are evolving and adapting to life in the 21st century. In the centre of the darkened exhibition space, a white labyrinth-like series of intersecting corridors is described by Tabanlıoğlu as a 'building within a building'. While the new digital works are displayed within these dazzlingly bright tunnels, laid out to mimic the shape of Istanbul's Bosphorus, carefully chosen historical objects from Antwerp and Istanbul's maritime past line the perimeter of the space, lurking within the shadows to create a clear contrast between the past, present and future.

Displayed alongside dozens of other historical artifacts, is the Byzantine chain of defense, whose impressive, heavy iron links were used in the middle ages to protect the harbor of Constantinople or Byzantium from enemy ships.

In the digital space, highlights include a series of slow motion films shot by Emre Dörter and Elif Simge Fettahoğlu that capture Istanbul from the air. Shot using a drone, the soundless, slow-moving footage offers an unusually serene view of Istanbul's bustling sea and road traffic as the camera floats above ships, bridges and winding highways.
INFORMATION
'Port City Talks. Istanbul. Antwerp.' runs until 24 January 2016 at MAS
ADDRESS
MAS
Hanzestedenplaats 1
2000 Antwerpen, Belgium
VIEW GOOGLE MAPS (opens in new tab)