Schmidt Hammer Lassen complete the International Criminal Court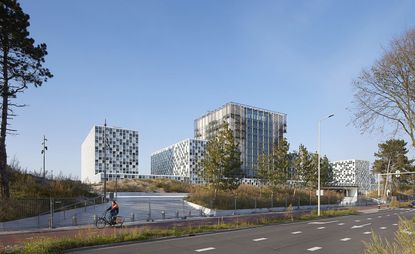 (Image credit: Hufton + Crow)
Five years after Schmidt Hammer Lassen (SHL) beat 170 other applications to win a global design competition in 2010, the International Criminal Court (ICC) is set to move into their newly completed permanent premises in The Hague. The Danish firm's design was selected for its response to a somewhat contradictory set of goals and values: to be grand and formal enough to instill a sense of respect in the court and faith in the justice process as a whole, yet also able to communicate trust, transparency and hope; and to create an 'open' building that was physically welcoming while meeting some of the world's most stringent security measures.

Providing 54,000 sq m of floor space across six buildings, the site is connected by a first floor that spans the entire length of all six buildings, tying them together from the inside and out. Five office towers provide work areas for up to 1,200 staff, while the distinctive green wall façade of the central tower is home to three court rooms, media briefing room, holding cells and various meeting rooms for judges, defendants, victims, witnesses and their families. Through a warren of hallways and doors, each party in a case has separate and secured access to each courtroom.

Each office tower is clad in angled and offset glass panels that reflect light in different ways, creating a patchwork effect or 'gridded tapestry' in SHL's parlance. A moat-style water feature provides required setback from street-level for security measures, while the striking, mirror-perfect reflection formed on the water's surface creates an approach to the building that's simultaneously striking and calming. Given the grave subject matter of many ICC hearings and the trauma that witnesses will often have been through, facilitating a positive psychology for its users was a fundamental design consideration, asserts SHL Project Director, Denis Olette.

Public areas include a viewing gallery area of courtrooms, along with café, exhibition space and two outdoor courtyard areas. Both SHL and the ICC are very eager to promote the court's new permanent home as a space that's open to all.
INFORMATION
For more information on the architects visit the website (opens in new tab).

Photography: Hufton + Crow.