Digital futures: Sam Jacob Studio creates an installation based on the humble shed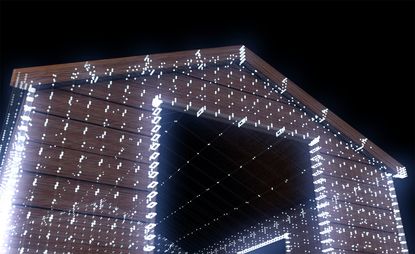 (Image credit: David Parry)
Sam Jacob Studio, the London-based architecture practice set up by FAT co-founder Jacob, has just launched 'One Thing After Another', an installation in collaboration with manufacturers Sto. The exhibit, presented at the Sto Werstatt gallery space as a part of Clerkenwell Design Week, explores the possibilities of digital fabrication using as its starting point a mundane yet quintessential form of architecture: the humble garden shed.

Through his installation, Jacob aims to enter the debate around the ethics of digital ownership and replication, recently brought back to the spotlight when German artists Nora Al-Badri and Jan Nikolai Nelles secretly 3D-scanned the head of Nefertiti from Berlin's Neues Museum with the intention of initiating a dialogue on the notion of possession. When they released the CAD files for public use, they provided the world with the opportunity to download and print a copy of the bust for their own.

'What is architecture's place within this digital analog dialogue?' asks Jacob. 'One Thing After Another' is part of a series of projects we've been working on that explore the possibilities of digital inputs and outputs,' he explains, 'they explore how objects can be transmitted through forms of technology and how that transmission leaves its trace within architectural substance.'

The installation is composed of three parts, borrowing the format of the Russian nesting doll and using a shed bought on eBay as a prototype. 'This 'post-digital' architecture is more than a building: it's information that remains in flux, that can be evaporated, distilled and precipitated between digital file and physical construction then back again', says Jacob.

A small 3D printed version of the shed is situated within the original one. They both sit with a much larger, scaled up version, constructed from a number of CNC milled pieces from Sto's innovative material, Verolith. This lightweight material consists of 90% perlite, a type of volcanic stone. To finish, the new shed's interior is lined with StoVentec, a glossy coloured glass panelling.

'One Thing After Another' highlights the exchange of information between the digital and the physical world, embracing a new and alternative angle that looks into imperfections in construction, fidelity, and architectural representation in our ever growing digital world.
INFORMATION
'One Thing After Another' will be on show at Sto Werkstatt until the end of June 2016. For more information, visit the website
Photography: David Parry