Soak, Steam and Dream: Roca London Gallery taps into bathing culture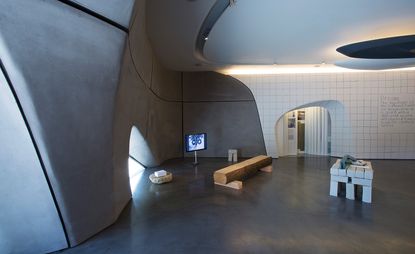 (Image credit: press)
The curvaceous interiors of Zaha Hadid's Roca London Gallery have been transformed for a new exhibition in praise of communal bathing.

Esteemed curator Jane Withers has indulged her long-time fascination with 'all things bathing-related' in 'Soak, Steam and Dream: Reinventing Bathing Culture,' pulling together archive material and the latest examples of communal saunas and bath houses.

The show, which will remain on view until 28 January 2017, taps into the resurgence of interest in these pursuits by myriad a number of architects, from Swiss Pritzker Prize-winner – and Wallpaper* Game-Changer – Peter Zumthor to Prague-based young guns, H3T, who like building mobile saunas.
Zumthor's Therme Vals baths in Switzerland rub shoulders with – among other projects – Kengo Kuma's Kogohi Bathhouse in Japan, Löyly Design Sauna by Avanto Architects, which opened in Helsinki this August, and H3T's concept for a vertical bath house. Withers drew some of her inspiration from WET: the Magazine of Gourmet Bathing, a niche title launched in 1974 by bathing fan Leonard Koren, who trained as an architect. This and Withers' other material helped inform the exhibition's designers, who have managed to convert Hadid's futuristic, minimal space with simple but clever interventions.

For signage, London design agency Kellenberger-White dissolved clay in water and smeared this 'mud paint' by hand onto an exterior glass wall; the duo then wrote the exhibition's title onto the mud by hand. Meanwhile, some of the display tables comprise artfully stacked bricks of clay, and Hadid's pure white walls are now adorned with a grid pattern, hand-drawn in charcoal, to represent bathhouse or sauna tiles. The effect is a refreshing improvement on the original.

As private space in domestic, corporate and hospitality surroundings shrink – the reduced footprint of modern housing, the death of the cellular office, and the bijou hotel rooms championed by hotel chains such as Citizen M – perhaps a return to communal bathing is on the cards.
INFORMATION
'Soak, Steam, Dream' will be on at the Roca Gallery until the 28 January 2017. For more information visit the gallery's website (opens in new tab)
ADDRESS
Roca London Gallery
Station Court
Townmead Road
London SW6 2PY