The future of architecture lies in engineered wood at Roca London Gallery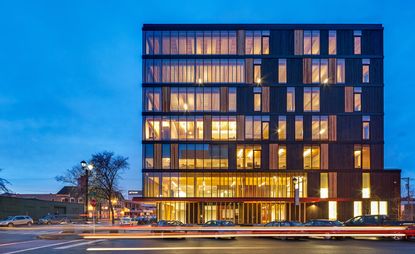 (Image credit: Ema Peter)
City dwellers could soon become used to seeing more and more tall buildings made of timber. Engineered wood like cross-laminated timber (CLT) is being increasingly adopted by environmentally-minded architects. Some of the best and most experimental examples are on display in Roca London Gallery.

'Timber Rising: Vertical Visions for the Cities of Tomorrow', which runs till 19 May, features live projects like Waugh Thistleton's Dalston Lane apartment block in London – the world's biggest CLT building to date – and proposals such as Michael Green Architects' Parisian tower.

According to the show's curators, engineered wood has the potential to answer many urgent urban needs: it would be a quick way of increasing housing stock; it's sustainable; and studies show living in a timber building improves well-being. What's more, being light-weight brings a myriad of benefits. It lends itself to urban densification as wooden structures can even be built on top of existing buildings, and it can be used on brownfield sites. Now that there's a critical mass of knowledge and an understanding of how to build with wood, more and more architects and engineers are adopting it.
Co-curator Clare Farrow believes that these new materials will drive new forms of architecture. 'The first CLT buildings resembled existing structures, but now architects are envisaging completely different types that you couldn't do with concrete and steel.'

Examples of this are Hermann Kamte & Associates' latticed Wooden Tower concept for Lagos in Nigeria, PLP's 80-storey Oakwood timber tower proposal for London's Barbican, and Michael Green's proposal for a timber tower in Paris.

These 21st century exhibits will sit alongside the long history of building with wood. Co-curator, the aptly-named Eva Woode, points out that that it's not a new idea to glue together pieces of wood, it was happening with glulam in the UK from the late 19th century. 'But now the need is more urgent.'
INFORMATION
'Timber Rising: Vertical Visions for the Cities of Tomorrow' is on view until 19 May 2018. For more information, visit the Roca London Gallery website (opens in new tab)
ADDRESS
Roca London Gallery
Station Court
Townmead Road
Fulham
London SW6 2PY