Renzo Piano's V-A-C Foundation art gallery in Moscow takes shape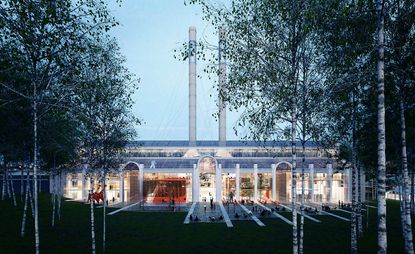 (Image credit: © RPBW)
Teresa Iarocci Mavica has the looks of a 20th-century movie star and the drive to match. Neapolitan by birth, she has lived in Moscow since 1989, and from the early Noughties has carved out a place in its art world. In 2003, she helped to establish the city's first contemporary art foundation, Stella, and under its aegis brought Basquiats and Warhols to Russia. Then she played a part in setting up the city's first private contemporary gallery. By 2009, she was working closely with Leonid Mikhelson. Mr Mikhelson, as he is generally known, is the richest man in Russia. Teresa calls him Leonid.
Mikhelson, whose fortune was made in oil and gas, started collecting modern and contemporary art in 2008, only has made rapid headway in a decade. He assembled a blue chip set, including Gerhard Richter, Louise Bourgeois and even a Francis Bacon. In 2009, he also decided to start a foundation.
V-A-C ( it stands for Victoria, the Art of being Contemporary) is named for Mikhelson's daughter, an art history graduate who may or may not take over the reigns in the fullness of time. But for now, it is Mikhelson and Mavica who are on a mission to bring international contemporary art to Russia, and Russian art to the world. 'The most important thing, though, is to provide a genuine training ground for curators and technicians as well as artists,' says Mavica. 'We need homegrown theorists and writers. We need to build an audience. There's nothing you can't do in Russia, but it will take time and Leonid won't let me go until we've made it happen.'
We are standing outside a decommissioned power station in central Moscow, a surprisingly fancy early 20th-century edifice on an island in the Moscow river. It used to provide electricity to the nearby Kremlin, but now only its outer walls remain. Inside is a building site that would make British health and safety types turn pale with horror, where gangs of workers from the outlying parts of the former Soviet Union carry heavy pipes up slippery mud slopes.
In charge of its transformation into exhibition space (possibly up to 20,000 square metres), cafes and offices is the Renzo Piano Building Workshop, and particularly the project architect Antonio Belvedere. The overriding ideal is to make a space with the welcoming power of the early-era Pompidou in Paris and democratise access to contemporary art.
The power station was switched off at the end of 2015, and Mikhelson was quick to win the bid to take it on. Mavica was initially dismayed. In 2012, V-A-C had also successfully bid for the Palazzo delle Zattere in Venice, as an out-of-Russia operational HQ. 'The others competing for the palazzo, they all wanted to turn it into a hotel,' shrugs Mavica. 'There was no question that our bid had more substance and would add more cultural value to the city.'
She was rather assuming that following its dazzling opening in 2017 – the launch show was a co-production with the Art Institute of Chicago, with over a 100 Soviet artworks from the 1920s and 30s rubbing up against new works from the likes of Wolfgang Tillmans and Tania Bruguera – her life would gradually gravitate back to the country of her birth. 'I thought, Venice, it's not so far from Naples,' she says. But Mikhelson had other ideas.
Now Mavica is in charge of seeing GES2, as the Moscow project is called, through to completion, which she believes will happen in the spring of 2019. 'Things occur differently here,' she assures me on several occasions. 'The men work in three shifts around the clock. You'll see. Moscow moves at a different speed altogether.'
That much is true, but there is much to do. Apart from the heroic main building, another unremarkable one already on the site, which once contained a brewery, will be converted into a fully-equipped production centre, where art works can be made. Yet another will contain seven apartments where artists-in-residence will spend extended periods, researching and developing new projects.
Once GES2 is open, visitors will be lured to it in various ways. The local audience for contemporary art is in a fledgling state (the Garage in Gorky Park is just three years old) so it is hoped that Muscovites will at least be attracted by the piazza in front of GES2, a bright new piece of public realm that Renzo Piano has designed into the campus, from where they will have an uninterrupted view into the building's interior through a fully glazed front facade. 'Then perhaps they'll decide to go inside, to the café,' says Mavica. 'And who knows, one day they'll actually come back just for the art.'
Meanwhile, a crew of the city's young curators are having a practice run at the Moscow Museum of Modern Art, housed in a building which is said to have sheltered Napoleon as Moscow burnt to the ground around him in 1812. Here an exhibition opened at the weekend featuring works from the V-A-C foundation, the museum's own collection, and KADIST, a Paris-based organisation with its own holding of international contemporary art and an interdisciplinary programme. On the museum's uppermost floor over a hundred artworks occupy rooms on two sides of a long corridor, arranged thematically, as though stored in a well-planned attic. From these, the curators have selected exhibits (leaving 'body outlines' where works have been removed) and put together a narrative show on the floors below derived from the characters and preoccupations of Chekhov's The Seagull.
They have clearly had a lot of fun doing this – imagine those passionate conversations about which artworks best represented Nina! (It's a Tauba Auerbach illusory 3D painting and a Lisa Duchesne marble surf board, apparently). But visitors might do better to switch off the curatorial light, and just trawl through the work, much of which speaks quite eloquently for itself. From Christopher Williams' practically pornographic camera series to the exquisite scultpures of Vadim Sidur and Philippe Parreno's adorably kitsch helium fish, there is much to love. Meanwhile, the building has been stripped off its municipal misery by the eau-de-nil furniture and display interventions by Koenraad Debobbeleer. Enjoy that too.
The exhibition is called General Rehearsal – a rather Europeanised way to say Dress Rehearsal (it is Repetition Generale in French). Still, we get the message. Let's hope that when the full performance opens at GES2 in the spring (fingers firmly crossed behind back) Russia will confidently start down its contemporary art road. One wonders what Mikhelson will come up with next to keep Mavica in Moscow.
INFORMATION
'General Rehearsal' is on from 26 Apr–16 Sep 2018 at the Moscow Museum of Modern Art
ADDRESS
Petrovka Ulitsa 25
Moscow
Russia
125009
For more information visit the website.
The new V-A-C Foundation museum is slated to open in spring 2019
ADDRESS
25 Pestroska Street
Moscow
For more information visit the V-A-C Foundation website
Receive our daily digest of inspiration, escapism and design stories from around the world direct to your inbox