Edmonds + Lee's minimalist vision has maximum impact in this San Francisco home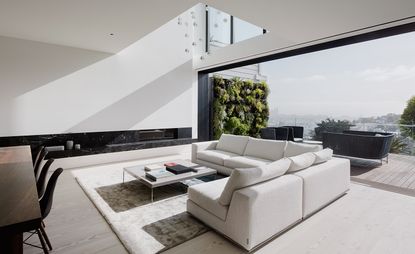 (Image credit: Joe Fletcher)
Upon approach, the Remember House, clad in opaque dark panels, stands in sharp contrast to its surrounds. It sits on a thin, sloping parcel of land in San Francisco's Noe Valley, designed by Edmonds + Lee Architects for a tight-knit family of three.

As a renovation project, it shares similar bones to the neighbouring houses, but the dark façade was meant to stand out. 'We tend to think about architecture as this spectrum of uniqueness versus universality,' says architect Robert Edmonds. Drawn away from the universally accessible city, the home 'should heighten your senses'.

Edmonds is quick to qualify the firm's ideal for capital-A architecture, adding, 'It's not a spectacle, but more of an atmosphere.' The atmosphere inside the Remember House is ethereal: an immersive all-white interior palette. The white, which could easily read as stark and anonymous in a property market seemingly saturated with this aesthetic, instead comes across as uniquely striking and warm.
The secret here is a relentless attention to detail. One example runs through the whole project: the white Douglas fir flooring, two inches thick, which adds a tactile richness grounding the concept. The architects call the interior 'seamless' and procession through it a 'continuous thread of inhabitation', citing architectural moments like where the white Corian shower stalls flow invisibly into the white walls beyond.

Rather than break up the procession in any obvious, jarring way – none of the doors have hinges, for example, nor disruptive door headers – rooms are defined through the spatial variety and dynamism that comes from a building thoughtfully designed in section. The whole house breathes outward, with the condensed circulation running through the core exploding outward into airy bedrooms and dramatic double-height living spaces.

The home is notable in its extreme purity of design, with every detail taken to its conceptual conclusion. In the architect's own words, 'When you're in the house, you feel it. You don't feel like you could be in any other type of space.'
INFORMATION
For more information, visit the Edmonds + Lee Architects website (opens in new tab)