Urban reinvention: an inspiring competition explores Paris' neglected sites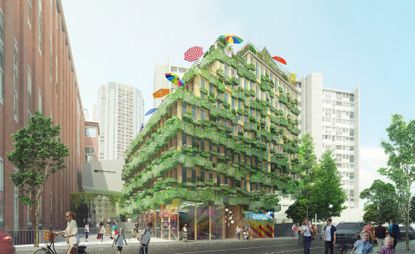 (Image credit: Manuelle Gautrand Architecture)
Reinventing.Paris, an ambitious architectural competition aiming to carry out what the French capital's Mayor Anne Hidalgo calls 'an urban experiment on an unparalleled scale', just had its winners announced. Making innovation its key requirement, the contest challenged participants to push the boat on every level, be it building program, shapes or management strategies.

The historical city has reinvented itself time and again over the centuries and now is seeking solutions that would respond to our evolving urban lifestyles; buildings that allow for flexible 'hybrid' use; new work practices, cutting-edge services and retail concepts; sharing and intelligent energy production.

The scheme spans 23 sites owned by the city or by social housing agencies, which would help facilitating future implementation of the winning schemes. Scattered across Paris, the sites include abandoned or underused facilities, a 15th-century mansion, a former public bath and a number of vacant spots. Just like in nose-to-tail cooking, Paris wants to consider using every available urban bit, be it roof, basement, or a waste lot by the ring road.

Constructive dialogue is vital for this ambitious project to happen. The competition brief made this clear right from the start. Submissions had to be made by teams in which different professionals got together at the concept development stage. This gave rise to collaborations between architects, investors, developers, contractors, but also researchers, chefs, nightclub managers, NGOs, local residents and urban farmers. The equally diverse competition jury comprised architects, politicians, innovative entrepreneurs, and scientists from various domains.

Biodiversity and the 'productive city' were among the central concepts investigated by the winners. The most striking examples include X-TU architects' project that features facades acting as a micro-algae-based bioreactor; a design by Sou Fujimoto and Manal Rachdi that places a whole green village above the ring road; and DGT architects' scheme in which everything about healthy food, from production to consumption, is gathered in a tower 'grown' out of an abandoned train station.

We may have to wait a few years to see these buildings complete, but the winning designs, along with the other proposals that made it to the first stage of the Reinventing.Paris competition – some 358 from over 800 entries – can now be seen in a multimedia exhibition at the Pavillon de l'Arsenal until 8 May.
INFORMATION
For more information on Reinventing.Paris visit the website
Reinventing.Paris will be on show at the Pavillion de l'Arsenal until 8th May 2016
ADDRESS
Pavilion de l'Arsenal
21, Bld Morland
75004 Paris
France