Rebel revival: a new tome revisits British postmodernist architecture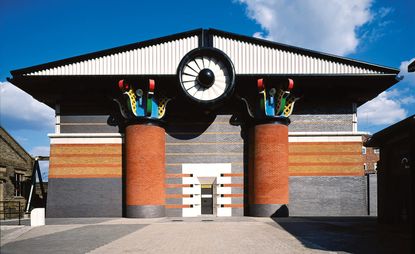 (Image credit: Reid & Peck / RIBA Collections)
In Britain, post-modern architecture was part of a wider riposte and rebellion – as in other art forms – against the rigid formality and uniformity of the monotony of the modernist style, which was de rigeur in architecture, following the explosive success of the likes of Le Corbusier and Mies van der Rohe.

First conceived in the 1960s, post-modernism prospered in Europe in the 1980s, with notable examples still standing in London including James Stirling's Tate Gallery, and post-modern pioneer Venturi's Sainsbury Wing at the National Gallery, and Farrell's SIS building (completed later in the early 1990s).

In a new book published by Batsford, authors Geraint Franklin and Elain Howard pay homage to Britain's finest examples of post-modern buildings and the architects who 'formed the backbone' of the post-modern style in Britain. Their principle of 'more is more' and the style's hybrid vocabulary was hard to define, but shaped a legacy that, though often overlooked or diminished, has been profound.
As opposed to the dominant practice of early 20th century modernism, post-modernism offered urban buildings that engaged with their surroundings and could propose metaphors and symbols for many ideas simultaneously – 'British post-modernism' in particular, write the authors, 'remained more contextual than that of other countries, strong in its references not only to classicism but also to Dutch brick traditions, Art Deco, the English Arts and Crafts Movement and the Vienna Secession.'

Some of the more eccentric and compelling examples that jump off the pages include the colourblock East Workshops at The Harley Studios, Nottinghamshire, Sphinx Hill in Oxfordshire, and the Isle of Dogs Pumping Station — with a chapter dedicated to the stylistic hedonism of John Outram.

Celebrating Britain's successes and failures in post-modern architecture (the latter, arguably, in public housing), the book also takes up the important role of documenting many post-modern buildings that have since been demolished — as post-modernism fell rapidly out of favour in the 1990s, and many beautiful examples were destroyed. Through sumptuous photographs and detailed texts giving the history of these buildings, Post-Modern Buildings in Britain reveals not only the lost language of post-modernism but also the richness of its ideas. Perhaps it's time for a comeback.
INFORMATION
Post-Modern Buildings in Britain, published by Batsford
Charlotte Jansen is a journalist and the author of two books on photography, Girl on Girl (2017) and Photography Now (2021). She is commissioning editor at Elephant magazine and has written on contemporary art and culture for The Guardian, the Financial Times, ELLE, the British Journal of Photography, Frieze and Artsy. Jansen is also presenter of Dior Talks podcast series, The Female Gaze.