Work force: #Cloud.Paris marks a new era in office design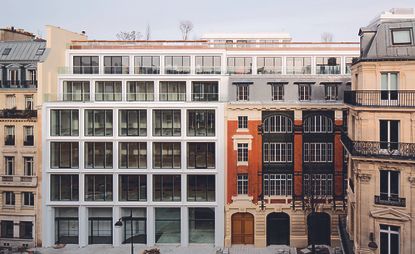 (Image credit: Clément Guillaume)
The final touches are still being added at #Cloud.Paris, but this 38,000 sq m office complex, located within walking distance from the Bourse and Opéra Garnier, is already almost fully let. Exane, one of major European investment companies, Blablacar, the leader in long-distance ride-sharing services, and the French division of Facebook will soon all be housed here, confirming the area as a hotspot for finance and digital businesses.

Initiated by SFL, one of France's oldest real estate companies (now expanding into prime office development), #Cloud.Paris was a major design challenge. Taking up a whole urban block, the site used to house the headquarters for the Credit Lyonnais bank and needed to be completely rethought.

Architect Philippe Chiambaretta, the principal at PCA - STREAM and the design brains behind the project, describes the site as a constellation of buildings from different periods, with obsolete technical infrastructure, narrow shapeless courtyards, and three 'blind' underground levels.

This needed to be transformed into an attractive property for an extremely demanding workforce. After all, recent surveys show that the Millennials want to work in the city centre rather than business parks - so much so that they are likely to reject a job that lacks in workspace quality. As a result, everything had to be rethought in the office property world; from location and size, to optimising rental costs through highly flexible designs.

SFL and Chiambaretta did not shy away from a bold approach. Half of the existing structures on site were demolished and replaced by a design that brings all elements together, with large courtyards, where white and reflective surfaces maximise natural light. Extended below ground, the new courtyards bring daylight deep into the lower levels, which now host a conference centre and three restaurants. Bright white facades maintain the original grid while creating a crisp contemporary rhythm. The main entrance is located in the meticulously restored historic part of the facade.

There is also an atrium outfitted by Noé Duchaufour-Lawrance. Seen as a kind of village square, the atrium houses a flock of micro-architectural objects whose organic shapes were 'modelled by the constant flow of people', explains the designer. These pods offer different levels of privacy, suited for a quick chat, a phone call or an informal meeting.

Three levels of planted roof terraces provide spectacular Paris views, connecting users to the locale's history. In fact, rooftop terraces - as well as staff canteens - were available even in the old Credit Lyonnais' offices, from as far back as the early 1900s, proving that quality workspace has a long track record here.
INFORMATION
For more information visit the Philippe Chiambaretta website (opens in new tab)
Photography: Clément Guillaume