Architect Hugh Strange's bold intervention transforms Peckham house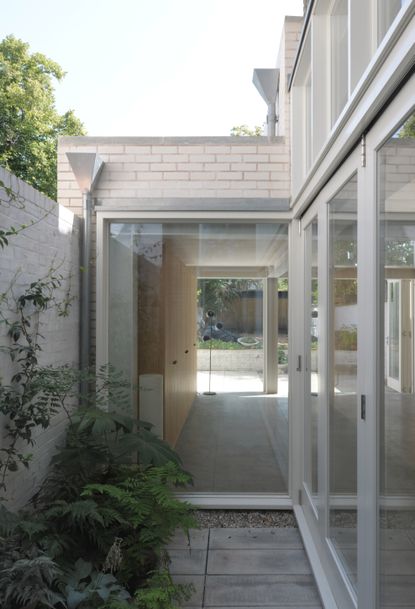 (Image credit: David Grandorge)
The latest in a series of bold interventions into existing buildings by architect Hugh Strange is the radical reconfiguration of a mid-19th century terraced house in Peckham. In the past, Strange has used huge concrete or timber forms to rework rural buildings, but here his intervention is a bold but ultimately light and open steel framed structure, inserted into the guts of a townhouse.

Although the original building is a hefty three-storey Victorian home, prior to this intervention the lower floors were modest in size and had little relationship with the garden to the rear. Not now though. Two ground floor levels have been completely transformed thanks to the huge steel frame.

This frame has a key structural role, supporting the main body of the house above. The structure of the upper ground floor level has effectively been moved to the rear, allowing a double-height space for the kitchen below and a connecting stair between the two halves of the house.
The townhouse in the city's south has been redesigned in a contemporary way. Photography: David Grandorge
The steel frame also provides the architectural device for organising the new space. 'You see the job that the structure is doing. It is not entirely rational though, there's a poetic narrative to it,' says Strange. Carefully framed views out to the garden have been created, subtly hinting at the career of the client, a photographer and her family. Thanks to large sliding french windows, the link is also literal.
As well as creating an interplay between the robust interior and verdant exterior, Strange's design is also characterised by an interplay between the white painted steel structure, which creates a certain cool regularity to the space, and the specialist joinery, which is far warmer in tone and softer in shape.
Tables, shelving and bespoke kitchen units in larch tri-board provide relief and playful contrast to the painted steel. This juxtaposition between steel frame and joinery has the ingenious effect of heightening the relationship between house and garden, as well as between old and new parts of the house.
The townhouse in the city's south has been redesigned in a contemporary way.
INFORMATION
For more information visit the website (opens in new tab) of Hugh Strange Architects