Paulo Mendes da Rocha's São Paulo house for art dealer Eduardo Leme
Paulo Mendes da Rocha has a fan in art dealer Eduardo Leme, who commissioned the Brazilian architect to design both his house and art gallery in São Paulo. Wallpaper* visited Casa Millán in 2006 (W*88), to find out how the brutal concrete residence, originally built by da Rocha in 1969 for another art dealer, was adapted for its new owner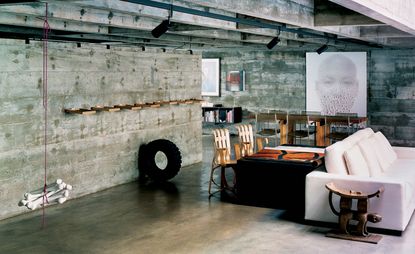 (Image credit: Douglas Friedman)
When art dealer Eduardo Leme was a boy in São Paulo, he used to look out with endless fascination at a striking modernist house two blocks away. It was the home of Brazilian architect Paulo Mendes da Rocha.

When Leme saw a 'For Sale' sign outside another da Rocha concrete bunker-style house in the city, he decided to buy it. Known as Casa Millán, it had been built in 1969 for another art dealer, Fernando Millán, and was in serious need of a facelift. Leme called on da Rocha himself to fix it up and a friendship was formed – which resulted the architect building Leme the São Paulo art gallery he owns today.

As for the updated residence, 'the concrete gives the house a very informal feel', says Leme. 'It's the sort of place where you feel at home in shorts and a T-shirt.' The relaxed vibe is added to by the fact that the house overlooks a quiet local park teeming with monkeys and super-sized vegetation, and has a swimming pool in the garden.
The kitchen was originally next to the living room, 'so that the maids could listen to Millán's opera and he could hear their radio soap operas.' This was too fluid an arrangement for the Leme family. They were after some privacy and child-free zones, so they moved the kitchen to the basement, put in extra windows to divide up rooms and knocked down the walls of the bedrooms to make them bigger.

The house is spacious, even for an art collector. 'We don't have many windows but we do have lots of walls, which is fantastic.' Leme began collecting art, when he still worked in finance. Later, he founded Galeria Leme, which specialises in ahead-of-the-curve works from a global mix of emerging artists, and is located in an area near the Jockey Club (also designed by da Rocha).

Many of Leme's best-loved pieces are on display in the house, along with 1950s furniture from the likes of Flávio de Carvalho and finds from his favourite flea market in Praça Benedito Calixto. For him, the house sums up Brazilian brutalism in the best possible way. §

A version of this story was featured in the May 2006 issue of Wallpaper* (W*88)
Emma O'Kelly is a contributing editor at Wallpaper*. She joined the magazine on issue 4 as news editor and since since then has worked in full and part time roles across many editorial departments. She is a freelance journalist based in London and works for a range of titles from Condé Nast Traveller to The Telegraph. She is currently working on a book about Scandinavian sauna culture and is renovating a mid century house in the Italian Lakes.