Palm Springs according to Phillip K Smith III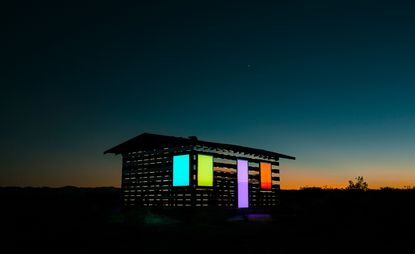 (Image credit: Lance Gerber)
Who better to share their guide to Palm Springs than Coachella Valley native, the American artist Phillip K Smith III, who creates his site-specific light-based works from his studio in Palm Desert, which is close to the mid-century modernist mecca.
Smith is renowned for large-scale temporary installations that draw upon ideas of space, form, colour, light and shadow, environment, and change. Past works include Lucid Stead in Joshua Tree, Reflection Field and Portals at the Coachella Music and Arts Festival, and The Circle of Land and Sky at the inaugural 2017 Desert X exhibition. His public artworks have popped up in Los Angeles, San Francisco, Kansas City, Oklahoma City.
Smith's next major project is a collaboration with the fashion brand COS for their prestigious annual design installation at Milan's Salone del Mobile 2018. Something of a departure from his signature works which are more typically immersed in natural landscapes, the COS installation will be exhibited in the courtyard of Palazzo Isimbardi. Meanwhile, during Modernism Week 2018 Smith is giving a lecture on his work. Here's his tips on the iconic houses to see during the 11-day event and his preferred Palm Springs hotspots.
W*: You grew up in Palm Springs, what are your childhood memories of the area?
PKS: I was doing a lot of hiking out in the middle of the desert and around the Salton Sea when I grew up here. That time spent in the quiet and vastness of the desert were highly impressionable on me. Fast forward many years, I continue to experience those same emotions and seek inspiration as I head out into the far reaches of the Mojave Desert.

W*: How did growing up there influence your work?
PKS: The scale of the desert, the sense of space as you see the horizon line, and the changing colours and light of the surrounding mountains, valley floor and sky are all highly inspirational for me. There are incredible natural light phenomena that happen here every day. The only requirement for seeing them is to slow down and to spend the time to see the shift and change.
W*: Which iconic house would you urge Modernism Week visitors see?

PKS: I still am really drawn to architects' own designed homes. Rarely open to the public (only during Modernism Week) Frey House II is my favourite iconic house. Perched up above the Palm Springs Art Museum on the side of San Jacinto, Frey's intimate masterpiece employs steel, glass, concrete block and the boulders of the mountain side as his construction palette. And if you get a chance to sit at his former drawing desk and look out over the expanse of the desert, I think you'll realise that only beautiful designs can spring from that desk.

E Stewart Williams' family home is also one of my favourites…elegant, simple, and innovative. And directly next door is J P Clark's family home… which I used to be able to hang out in during high school. The Clark Family still lives there.
The Parker hotel at Palm Springs
W*: Which is your favourite hotel?

PKS: I love the vibe at The Parker. The lobby bar and the small speakeasy-like wine bar tucked away behind the lobby are perfect hideouts when you need one.


W*: Which restaurants do you frequent?
PKS:
My favourite Palm Springs restaurant is Workshop Kitchen + Bar. First, because I love the interior architecture with its stark concrete and hanging light fixtures; second, because they make impressive hand-crafted cocktails; third because the menu is unique and frequently changing - my favourite item is the Diver Scallops served with buttery grits and pork belly.

W*: Any other preferred pitstops?

PKS: Koffi is my favorite caffeine stop; Cheeky's in Palm Springs and Keedy's in Palm Desert have my favorite breakfast items (including the bacon flight at Cheeky's).

W*: And for cocktails?
PKS: In Palm Springs I like to find an old-school vibe with a vintage flair and expert bartenders: Melvin's, Spencer's and Bootlegger Tiki for a Martini, Old Fashioned or Mai Tai.
I'm also a big fan of Truss and Twine, adjacent to Workshop.
W*: Which stores would you recommend?

PKS: While I'm known to frequent hardware stores and steel yards, I also enjoy shopping in the Uptown Design District in Palm Springs. Wil Stiles, The Shag Store and Modernway are local gold mines.


W*: Is there a top spot for soaking up the view?

PKS: I really like heading up Thousand Palms Canyon Road into Sky Valley and heading east through the Indio Hills. You can see the entire Coachella Valley from that road… from the Salton Sea all the way to the San Gorgonio Pass. Also, I like to head out into the agricultural grid in the East Valley near the Salton Sea – the extreme contrasts of desert, green farmland, and sea are absolutely beautiful.

W*: Best Modernism Week tour?
PKS: If you can't see my favourite Frey House II, the next must-see is the Double Decker Architectural Bus Tour. It's a great way to see the city, learn about the different midcentury modern architecture styles and the Desert Modern architects who built them.
INFORMATION
For more information visit Phillip K Smith III's website. Palm Springs Modernism Week is on from 15-25th February, for more information visit the website.