Omar Gandhi Architect's new viewing deck celebrates Canada's Maritime provinces
Architect Omar Gandhi led the design for Peggy's Cove Infrastructure Improvement Strategy, including a new, accessible observation deck positioned on a unique vantage point of the glaciated landscape on the iconic Peggy's Cove in Nova Scotia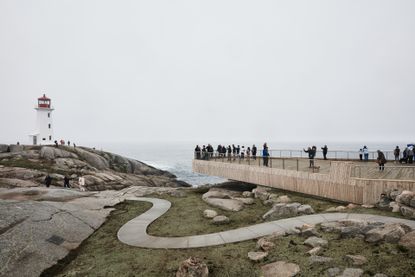 (Image credit: TBC)
With studios in Toronto and Halifax, architect Omar Gandhi is known for his distinct style, which often offers a modern twist to the rural vernacular. His work responds to regional architectural varieties and, facing the Atlantic Ocean, the Peggy's Cove Infrastructure Improvement Strategy is a case in point. The project highlights the landform of Peggy's Cove in the Canadian Maritimes, a narrow inlet carved from wave formed glacial granite. Now, on it, a new viewing deck elevates the impressive geologic scale of the shoreline, with a view of Peggy's Point Lighthouse, the famous red and white lighthouse built atop of granite boulders.
The small fishing village on the eastern shore of St Margaret's Bay near Halifax in Nova Scotia is rumoured to be named 'Peggy's Cove' after the wife of an Irish immigrant who settled there in the 18th century. Historically its landscape has been rife for fishing, mining, lumbering and farming. Today, it continues to be an active fishing community, as well as a popular tourist attraction of the Canadian east coast.

The harsh terrain of the coastline has made it difficult for many to have accessible views of the landmark. Going beyond meeting building regulations, the architects prioritised principles of accessibility, with a unifying pathway connecting the two main access points to the site. This way, the benefits of the views are extended to all locals and visitors of the cove. Embedded within the design are seating spaces, a levelled platform, tactile indicators and handrails with a separate building providing public washroom facilities with large hallways and stalls, including adult changing tables.
Following local coastal construction methods, the viewing platform seamlessly blends into the landscape of wave washed boulders. As it's built atop the ridges of the shoreline, elevating the deck was crucial in maintaining a levelled platform for the parking lot and drop-off area - but also to ensure protection from rising sea levels. Guard rails with open netting alongside the use of eastern white cedar panels were used to counter the harsh prevailing winds. The architects state that 'extensive wave modeling was undertaken to ensure we placed the primary components at an elevation that provides protection from the strong waves striking the coastline.'

The team continues: 'Green spaces are expanded with planters and landscaped zones, that use a mixture of native plant species, to support and sustain the local ecology and educate a larger audience to the unique biosphere of the coastal barrens.'
Omar Gandhi and his studio's design for the Peggy's Cove Infrastructure Improvement Strategy celebrates this impressive natural landscape through sensitive architectural intervention, as it unravels the picturesque and serene view of the Canadian maritime landscape.
INFORMATION