MVRDV reinvent the museum experience in Rotterdam with Collection Building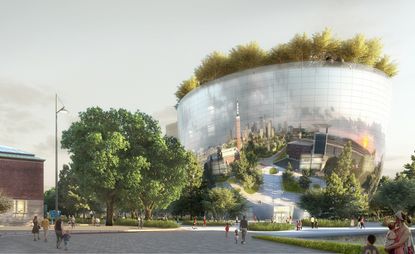 (Image credit: press)
Rotterdam based architects MVRDV are working on a building that is neither a museum nor an art storage facility; rather a typology that merges the two. The Collection Building is a new type of cultural venue, where visitors are taken through a museum's art collection, while it is being exhibited within state-of-the-art conservation spaces.

The project is planned as an extension of the Museum Boijmans Van Beuningen, located in Rotterdam's well known Museumpark cultural district.

The centuries-old establishment currently keeps its art collection in storage in the museum's basement, but it has been in constant danger of flooding. MVRDV's response lies in the design of a structure that acts as an art depot that is open to the public, located only a few metres from its predecessor. Sanne van der Burgh, the project leader, compares it to a 'backstage' or a 'working' museum experience.

The structure's curved volume is at the same time a 'gesture' towards its multiple – and high profile – neighbours (the MBVB, Het Nieuwe Instituut, and OMA's Kunsthal) and an attempt to draw visitors to this new addition. Its shape narrows at the bottom so as to give breathing space to a carefully landscaped public space with birch and pine trees, low and high grasses. The trees currently on the building's site will be transplanted to its rooftop, which will be a new elevated public space looking over the city and comprising a sculpture garden, restaurant and exhibition space.

The scheme is organised into three types of visitor routes, all making their way up through different types of art depots and restoration workshops. The most striking one is a thin atrium cut into the building, displaying an impressive number of art works. The pieces will be organised not by theme, as you might expect in a traditional museum setting, but according to conservation type - temperature and light.

The building will be clad in mirrored glass - providing an 'anamorphic reflection of the surroundings,' explains the architect.

Following a bright blue rooftop house extension and last year's last year's Markthall completionl, this will be the architects' third project in their hometown. Construction will start during the summer of 2016, on track for an official launch at the end of 2018.
INFORMATION
For more information on MVRDV visit the website