Modern hydroponics meet contemporary architecture in this new office in Mexico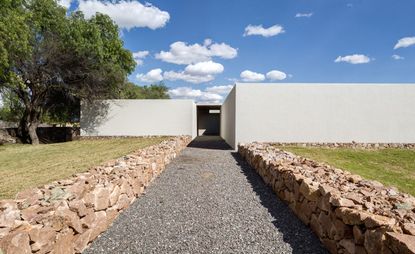 (Image credit: press)
Growing plants using hydroponics has been around for centuries, and this unique method of looking after crops using nutrient-enriched water, without any soil, is still very much in use in modern agriculture. An extensive new facility for such an enterprise has just been completed in rural Guanajuato, near León in central Mexico, and features at its heart a modern office designed by local firm C.C Arquitectos.

Arranged in a way that promotes interaction between different departments, the offices also provide direct sightlines from employees' desks into the surrounding five hectares of greenhouses, which contain row upon row of leafy lettuces, produced for international export by Next Vegetales. Visual connections between the office workers and the production processes were highly important, says C.C Arquitectos' Manuel Cervantes. This is a development that aims to create 'a collective experience of working together with a shared purpose'.

Isolated by miles of flat agricultural land, the project was free of the contextual constraints that often come with architectural developments and allowed great flexibility in the design. The program is spread across a series of low volumes, linked by outdoor passageways and courtyards and united under a continuous concrete roof slab.

A series of rectangular forms - white rendered walls, a tranquil shallow pond, and oblong regional stone floor tiles - define a distinct architectural language. Central to the commercial building is a planted courtyard with hewn stone seating and running water features. Here, the monolithic roof slab breaks open and a large, rectilinear skylight streams sun rays down to the reflective pool below. Everything is carefully placed so that edges line up, while the juxtaposition of the white walls and grey ceiling and floors adds definition to the design.

Modern offices, meeting rooms and staff facilities surround the central courtyard, detached from one another yet united by this semi-open space. Large amounts of glazing bring in natural lighting in abundance, making for great work conditions, and highlight further the link between inside and outside.

As well as the main courtyard, the complex includes a second outdoor patio designed by the artist Jerónimo Hagerman. It features hanging Cissus antartica vines, drapped throughout a grey stone landscape, all dramatically set against a bright yellow backdrop.