East London apartment revived by sparky yellow staircase
There's more than meets the eye at Vine architects' Mile End apartment renovation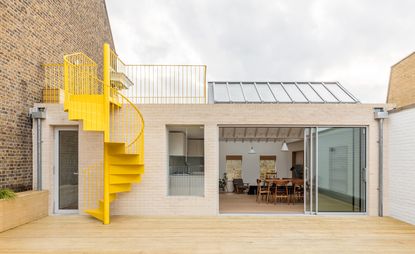 (Image credit: Nicholas Worley)
A shabby east London apartment has been given a new lease of life, an upbeat identity and a bright yellow spiral staircase, by the architects at Vine. The makeover involved significant refurbishment, reconfiguration and re-building, yet the work was worth it and now, the space has a whole new face.

From the busy high street where market stalls roll out their goods, pubs come to life mid-afternoon, and a crop of new cafes are on the rise, it's hard to imagine that behind a terraced brick building, Vine's new project awaits as an ataractic antidote to the vibrant, over-sharing and hectic buzz of the East End.

Through a side door on the street, and up a couple of levels past an office, the apartment is a secret haven – complete with a quiet Accoya-timber-decked terrace and upper terrace (reached by the aforementioned sparky spiral stair, offset by pale brick) for loftier private views over the city.
Part of the challenge for Vine – the locally based design-led practice founded by Rory Pennant-Rea in 2011 – was stripping back the existing, uninspiring layout, to totally reimagine how the tired old flat could be elevated. The load-bearing masonry walls were of course retained, and also re-instated – exposed in parts. The apartment was also divided into four sections – washing, dining, relaxing and sleeping.

Space was uplifted with a level-change that steps up to the kitchen from the living space. While, the double dual-pitched roof valley was revealed with new glazing to wash the space with a soft north light. Tracking the path of the sun, and introducing the right orientation and pitch was part of the process to reduce direct solar gain, and concealed motorized blinds are seamlessly hidden between the rafters.

An important part of the harmony is the smoothly gliding parts – wide slim-line sliding doors open up to the terrace, a frameless picture window softly punctuates the space, and entry to the bedroom is through sliding full height spruce paneled double doors.

The design-led architectural team at Vine delighted in bringing material and colour continuity throughout the apartment design with a harmonious palette. As well as for the bedroom doors, stained spruce panels are used for the adjacent kitchen cabinetry white washed timber is paired with smoked oak flooring to create a simple and complementary aesthetic.
INFORMATION
For more information, visit the Vine Architecture website (opens in new tab)