Maebashi Galleria blends art and living in Japan's Gunma
Maebashi Galleria by Akihisa Hirata launches in Gunma, as a new complex fusing art galleries with residences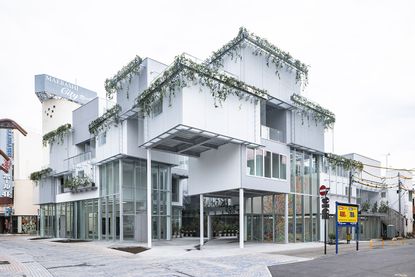 (Image credit: Shinya Kigure)
Wallpaper* Newsletter
Receive our daily digest of inspiration, escapism and design stories from around the world direct to your inbox
Thank you for signing up to Wallpaper. You will receive a verification email shortly.
There was a problem. Please refresh the page and try again.
Maebashi Galleria is the latest in the string of revitalisation projects involving an impressive roll call of top international and Japanese architecture, design and art scene names, that are putting Maebashi in mountainous Gunma prefecture, northwest of Tokyo, firmly on the country's creative map. With this newest opening – a new complex fusing art galleries with residences – the transformation of a sleepy former silk-making city in rural Japan into a major creative hub has taken a leap forward.
Maebashi Galleria by Akihisa Hirata
Innovation has long been threaded through the DNA of the small city, which flourished for centuries as a progressive silk production hub. More recently, countering its industrial decline, its creative projects are increasingly in the spotlight, including the landmark Shiroiya Hotel by Sou Fujimoto which opened in December 2020.
Maebashi Galleria, just five minutes on foot from the hotel, was designed by architect Akihisa Hirata. Transparent and light, the four-storey building – configured from 13 staggered layers of stacked box-like units wrapped in greenery, that seemingly hover above the ground – is home to two gallery spaces, 26 residences and the French restaurant Cépages.
A key feature is the plaza, its community heartbeat, around which the steel-frame building appears to float and overhang, as Hirata explains: 'The brief for this project was to create a plaza and a group of residences, which would serve as one of the hubs for the city.'
'We therefore came up with the idea of wrapping the apartments with planting, so they look like a tree crown, and float them in the sky. The space underneath the tree crown is used as the plaza, occupied by various people, accommodating a number of different activities.'
Highlighting the fragmented structural form, he adds: 'The apartment units are following the grid of the existing townscape and by varying the height of each unit, the roof became a large garden to the adjacent unit. The structural grid, which is made of simple steel frames, gradually changes as it gets higher.'
Art is centre stage at the complex, which now houses some of Japan's most respected independent galleries. Gallery 1 is home to Taka Ishii Gallery, while in Gallery 2, four leading galleries plan to rotate exhibitions, including Tomio Koyama Gallery, Shiobara Art Office, Maki Gallery and rin art association.
The project forms part of a wider revitalisation plan to transform Maebashi into a green, modern design city, according to Kaoru Hashimoto, a local architect and president of Machino-Kaihatsu-Sha, the development company behind the project.
'The concept of Maebashi Galleria is to nurture a place where people find something new in life, cultivate creativity and become the gathering point of Maebashi lovers,' explains Hashimoto, who is working closely with the influential local entrepreneur Hitoshi Tanaka, owner of Shiroiya Hotel, on a string of city projects.
'The inspiration lies in the creation of a living space with art. It will become a place where individuals gather, communicate and live,' he adds.
Projects already open in Maebashi include a confectionary store by Schemata's Jo Nagasaka; Fumiko Takahama's seafood restaurant; a bakery at Shiroiya by Teruhiro Yanagihara Studio; and a Blue Bottle Coffee Shiroiya Café by Keiji Ashizawa Design.
And the momentum of Maebashi's creative renaissance is showing no sign of slowing down: respected curator Fumio Nanjo recently became honorary director at museum Arts Maebashi; Jasper Morrison is planning to unveil designs for a public toilet; and Suppose Design Office is also working on a new commercial complex, among other projects.
Receive our daily digest of inspiration, escapism and design stories from around the world direct to your inbox