Sou Fujimoto's brutalist concrete hotel revival transforms Maebashi
The revival of the brutalist concrete Shiroiya Hotel by architect Sou Fujimoto is part of Hitoshi Tanaka's desire to turn an unassuming Japanese city into a design destination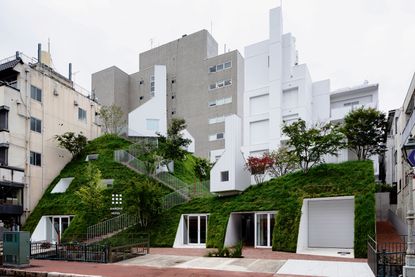 (Image credit: TBC)
The recently completed brutalist concrete Japanese architecture of the Shiroiya Hotel in the city of Maebashi, about two hours north-west of Tokyo, is a great example of what a slow and relaxed approach to architecture can achieve. Though it took three years longer than intended, and cost roughly double the original budget, both architect Sou Fujimoto and client Hitoshi Tanaka couldn't be happier with the end result.

Born and raised in Maebashi, Tanaka is the youthful and charismatic president of Jins, kind of the Uniqlo of eyewear. He has, for some time, been pushing this rather nondescript city in a more creative direction, helping to turn around one of its fading shopping streets, populating it with the well-received craft pasta shop Grassa and cake shop Nakamata (designed by Jo Nagasaka of Schemata Architects). He is also active in local politics, championing policies that make the city a more fun and interesting place for young entrepreneurs.

Tanaka bought the old Shiroiya Hotel in 2014, intent on turning it into something of a landmark destination for Maebashi. Instead of demolishing the existing 1970s concrete box, as the original owner had planned, Tanaka wanted to give it new life. He had worked with Fujimoto back in 2002 on the plans for an unrealised Jins store and returned to him with this new mission. 'I remember our monthly meetings very well,' Fujimoto reminisces. 'Tanaka would tell us that he had bought a neighbouring lot or thought we should explore a different direction.' Small wonder the project took six rather than three years to finish.
The hotel consists of two parts; the old renovated Heritage Tower, and a new, hill-like Green Tower hiding eight rooms and a few retail spaces under thick vegetation, with four small huts (one housing a Finnish sauna) perched on top. Completing the offering are a café and a high-end restaurant where chefs Hiroyasu Kawate and Hiro Katayama, both from Tokyo's two Michelin-starred Florilège, have created a delicate tasting menu with a strong focus on local ingredients.

Architectural reuse and renovation is rare in Japan, but Tanaka remained committed to saving the old hotel. 'I just didn't think this was the time for more scrap and build,' he says. Fujimoto ripped out most of the 75 existing rooms in the Heritage Tower and added a glass roof to allow natural light to penetrate the vast space. A striking installation, Lighting Pipes, by Argentine artist Leandro Erlich, weaves its way in and out, around the concrete pillars and sculptural staircase that runs from the spacious lobby to the fourth floor.

'The pipes are a symbol of the water pipes that are always hidden inside walls and go through all buildings as veins of fluids,' explains Erlich. 'I was very much inspired by the approach Sou had to the old hotel and how he uncovered the concrete structure. I see the concrete structure as the bones of the organism.'
Artworks are on display throughout the hotel, including works by Ryan Gander, Liam Gillick and Tatsuo Miyajima, and a quiet seascape photograph by Hiroshi Sugimoto, which greets guests at the check-in counter. The various artworks were selected by Kozo Fujimoto (no relation to the architect), a friend and art lover, together with Tanaka and Sou Fujimoto.

The 25 guest rooms are chic and, for Japan, rather spacious. Four special rooms, designed by Fujimoto, Erlich, Michele De Lucchi and Jasper Morrison, feature warm wood veneer, and either a hinoki bathtub (Morrison), fine latticework (De Lucchi), painted gold pipes (Erlich) or furniture incorporating vases and decorative lighting (Fujimoto). All guest rooms in the Green Tower come with balconies overlooking the green hill that is meant to mimic the embankments of the city's large Tone River. At the back of the Green Tower, towards the much smaller Baba River that runs by the site, three openings have been cut into the hill, and there are plans to turn them into retail spaces selling delicacies to both hotel guests and locals.

Tanaka is already involved in two more projects in the city. One is a mixed-use building by Akihisa Hirata with a community space and small apartments, while 'the other is still under wraps but Junya Ishigami is involved', he says. The small city of Maebashi seems to be on a clear course of creative transformation.
INFORMATION
sou-fujimoto.net (opens in new tab)