Light work: Layan Architecture manipulates the sun in inner-city Melbourne home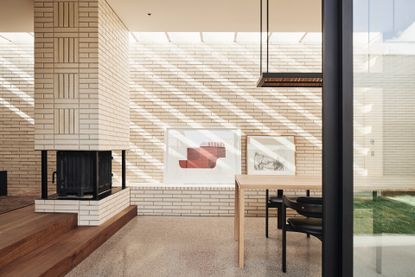 (Image credit: Peter Bennetts)
Aptly concealed behind a traditional brick and weatherboard Victorian cottage facade, Light House is a contemporary inner-city Melbourne home, where natural and artificial light are manipulated and leveraged in myriad ways.

Inspired by the challenge of drawing sunlight into a narrow, north facing, double storey home, while simultaneously ensuring privacy, Melbourne-based design studio Layan Architecture and Design has collaborated closely with lighting consultants Flaming Beacon to create a prominent sun-shading screen that offers privacy to the first floor bedrooms, while transforming the remainder of the house into a ever-changing light show.

'The method to control the direct sunlight needed to double as the device, which could control the sight lines,' explains Johannes Hart, Layan's design director.
'However for the lighting designer, this screen could not only modulate the character of natural light throughout the year, but also become the primary illuminated surface at night for the internal spaces', he continues. To achieve the desired effect, the architects and lighting designers created a 3D, geometric interface that is lightweight and cost effective.

Each screen module is composed of a pair of convex translucent discs, informed by the angle and location of the LEDs that sit within them. Each disc also contains a single amber LED with a wavelength that also assists with melatonin suppression. One of the clients, who is also a lighting designer, describes the internal look of the screens as 'oversized urban vines', which have increased sensitivity to the changing passage of time via the ever-changing experience of light, shade, shadow, colour and texture.

The architects have also strategised the plan layout so that the internal spaces extend into a landscaped courtyard and winter garden, thereby bringing the outdoors – and the clients' love of nature – into the home.
INFORMATION