Letter from Australia: our survey of new architecture from the land down under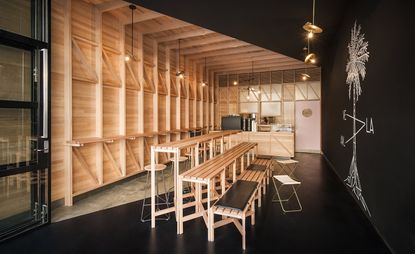 (Image credit: David Sievers)
Abbots & Kinney, Adelaide, by Studio-Gram and Alex Hall

Finely crafted pastries deserve a shop to match. Jonny Pisanelli is a pâtissier with a passion for making artisanal pastries. His inspiration was Abbot Kinney, the man who, in 1905, brought the magic of Venice's canals to Los Angeles. Pisanelli's pastries are all about giving bespoke craft a contemporary twist, something architects Studio-Gram and Alex Hall, as well as art director Dave Lawson of Crafty Design, wanted to highlight. Photography: David Sievers
A 'crumpled paper bag' has Sydney agog. Frank Gehry's (opens in new tab) $180 million Dr Chau Chak Wing Building, created using over 300,000 hand-laid bricks, is drawing eyes and visitors away from the famous bridge and opera house as people take in its gravity-defying folds and twists. Creating the rippling skin of Sydney's University of Technology's new building was a task so tricky that retired bricklayers with the required skills had to come out of retirement to complete the job. The 85-year-old Pritzker-prize-winning architect attended the unveiling of the building, assured that he had created a new icon in the city.

Gehry is one of many foreign designers to make a move on Australia. In Melbourne, NADAAA (opens in new tab), headed by Cooper Union School of Architecture dean Nader Tehrani, joined forces with John Wardle Architects (opens in new tab) to create the Melbourne School of Design. The addition to the University of Melbourne has earned a United Nations award for green architecture – and the praise of its design-savvy students.

Just 1 km away, Malaysian firm UEM Sunrise (opens in new tab) has broken ground on $730 million residential project Aurora Melbourne Central, designed in collaboration with Melbourne-based Elenberg Fraser (opens in new tab) (the small Australian team is currently working on an impressive seven boutique residential towers).

Not that it's all about multi-million dollar buildings. Stirling Prize winner Amanda Levete (best known as the co-designer of the Lord's Media Centre and Selfridges in Birmingham, UK) has been called to design the MPavilion in Melbourne. The Australian version of London's Serpentine Gallery, MPavilion runs until 7 February 2016. This year, it also spotlights the work of local architect Sean Godsell, who continues to live up to Wallpaper's lofty 2002 prediction that he was 'destined to change the way we live'.

Perth's fortunes have fallen with the drop in commodities prices, which has seen Hobart and Adelaide emerge as the cities to watch. Multi-millionaire art gallery owner David Walsh recently floated a new CIRCA Morris (opens in new tab)Nunn (opens in new tab)-designed wharf into Hobart's harbour. In the space of one afternoon the city found itself with a new three-storey building. It serves as the terminal for the MONA art gallery ferry and will soon be joined by Walsh's top-secret Heavy Metals Lab – a partially submerged science lab-meets-arts space designed by Tasmania's Room 11 (opens in new tab) architects that will soon surface on the city's central Derwent River.

Adelaide continues to be the surprise hub, scoring high marks on world's most liveable city surveys thanks to a new-found love for exceptional architecture – big and small.

The city's once shabby West End has been given a timely makeover with the $80 million Jeffrey Smart Building for the University of South Australia. Jeffrey Smart's teacher, Fernand Léger, would surely have approved of the building's cubist zig and zags, which cut into each other as it jags upwards eight-storeys, its folded glass facade revealing delicate abstracted pattern as the sun catches it. The building wraps around a courtyard that is open to the community and attracts a contented lunchtime crowd. Nearby, the Woods (opens in new tab)Bagot (opens in new tab)-designed South Australian Health and Medical Research Institute, nicknamed the 'cheesegrater', adds wow factor, its faceted silver skin shimmering like an enormous mirror ball.

On a smaller but no less important scale, Adelaide's Studio-Gram (opens in new tab), run by Canadian Graham Charbonneau and local Dave Bickmore, has worked in alleyways, abandoned buildings and unloved areas of the city, creating a portfolio that spans bars, cafes, art zones, festival arenas, dance spaces and restaurants. Some are one-night-stands, others are here to stay, all are still talked about. A nice touch; Studio-Gram ensures that at least one bespoke item of furniture survives even the shortest-lived of their creations. Local DJ Oisima now plays on a Studio-Gram-designed mixing desk. Architecture rarely gets smaller than that.

Look to the sky for the next big thing in Sydney and Melbourne, but keep your nose nearer the ground, river or dancefloor for the projects that are reshaping Hobart and Adelaide.
Abbots & Kinney, Adelaide, by Studio-Gram and Alex Hall

The result is bespoke timber bleachers facing a black wall that a define a pathway to the products. The store, however, is designed to be more than just an architectural beauty. Abbots & Kinney often takes to the road, serving up trademark sfogliatelles and more from vending carts and market stalls. The shop serves as a business card, allowing for brand recognition that in turn enables the agility needed to take the choux on the road.
Aurora Melbourne Central, by UEM Sunrise

Named after the natural light display Aurora Australis, (Down Under's equivalent of the Northern Lights), Aurora Melbourne Central is set to become Melbourne's largest integrated mixed-use development and the world's third largest residential development. Curvy and coated in a special glass, the building will reflect the city lights as well as the silvery hue of the nearby bay, creating its very own light show
Aurora Melbourne Central, by UEM Sunrise

Developed by Malaysian-based UEM Sunrise and designed by Elenberg Fraser, the 92-storey, 269m skyscraper, to be built at a cost of $770m, will be located in the central business district
Aurora Melbourne Central, by UEM Sunrise

It's still four years away from completion, but the 941 residential apartments, which will look out to both the sea and mountains, are already selling fast
Brooke Street Pier, Hobart, by Circa Morris Nunn

It's a rare building commission that sees an architectural practice team up with a boat-building team, but when you're planning to float your 4,300-tonne building into place, someone who knows how to keep things above the waterline comes in handy. MONA gallery owner David Walsh's Brooke Street Pier floated into town in January 2015, and it is as innovative as it is beautiful
Brooke Street Pier, Hobart, by Circa Morris Nunn

A lightweight superstructure made of lightweight polycarbonate ribs injected with insulating nanogel, creates a diaphanous skin that lights up at night. Inside, you'll find a local produce and product market, two cafes and a dining area with views over the harbour
Brooke Street Pier, Hobart, by Circa Morris Nunn

There's also a waiting lounge for the ferry that takes you to MONA. The boarding level can also be used as an entertainment venue, filling with up to 1200 people at night for events such as MONA FOMA – an annual festival curated by Brian Ritchie from Milwaukee alt rockers the Violent Femmes
The Bicycle Hub, Sydney, by Hill Thalis Architects

Cycling has been closely associated with Sydney's Centennial Park for more than 100 years. The Empire Games cycling events were held here in 1954, the Sydney Olympic road race took in part of the park in 2000 and, more importantly, it's a place where people come for a relaxing ride. A recent survey of park users found that many visitors wanted a chance to saddle up, too, so Hill Thalis was commissioned to create a bike hire venue and cafe. The result is more than just a functional success.
The Bicycle Hub, Sydney, by Hill Thalis Architects

The Bicycle Hub is wrapped in perforated metal and luminous acrylic paneling, giving off a warm glow as it reflects the sun's rays and serving as a marker for those seeking out a bike or a bite. The Hub also offers a covered picnic area and will later form part of a project to create a new cycling route into Centennial Park, that will link it with a new light rail project. The Bicycle Hub will open to the public in late 2015.
People's Republic of China Embassy pool enclosure, Canberra, by Townsend + Associates

Townsend + Associates have created a place of reflection and beauty on the grounds of China's Embassy in Australia's capital city – the People's Republic of China Embassy pool enclosure.
People's Republic of China Embassy pool enclosure, Canberra, by Townsend + Associates

Its opaque glass pavilion is flooded with natural light all year round, allowing users to bathe in sunlight, as well as water
People's Republic of China Embassy pool enclosure, Canberra, by Townsend + Associates

A simple palette of materials has been used, including double-glazed glass, steel and timber for a new deck area in the corner of the building which serves as a place to relax (just in case all that floating wasn't sedate enough).
CSL corporate headquarters, Sydney, by BatesSmart

Small pox green and blood red are not obvious inspirations for the colours of a building, but when you're famous for plasma products and play a key role in health as the nation's vaccine provider why not wear your achievements with pride? The upgrade and expansion of a 1960s modernist building designed by Bates, Smart and McCutcheon (one of the world's oldest architectural firms) into CSL's corporate headquarters was carried out one with one eye on honouring the company's history of innovation, the other on reflecting the high-technology of the company's manufacturing processes.
CSL corporate headquarters, Sydney, by BatesSmart

The result was silver pods that are layered with colour, creating a strong branding statement and a unique light that filters in during the day. At night the pods glow like a billboard, trumpeting CSL's cutting-edge work
Green Chemical Futures building, Melbourne, by Lyons architects

Look closely at Lyons architects' Green Chemical Futures building – it's one big molecular structure, and it inspires bonding (pardon the pun). Doors opened this year at the $80m Monash University lab building, which unites 100 researchers across education, research and practice
Green Chemical Futures building, Melbourne, by Lyons architects

Collaboration is the central focus of GCF – highly visible internal circulation promotes the concept of a transparent, shared enterprise.
Green Chemical Futures building, Melbourne, by Lyons architects

The building also offers new lab spaces for over 1000 students and 100 industry partners. GCF will partner with a number of international institutions including Yale University and Waseda in Japan.
Moonlight Cabin, Victoria, by JCB Architects

How small is too small? This was the question JCB Architects set out to answer with their 60 sq m Moonlight Cabin, completed in April this year.
Moonlight Cabin, Victoria, by JCB Architects

Screened in a native spotted gum timber, its shutters open out to enable ventilation and take in the stunning vista of the Southern Ocean from Moonlight Head, in southwest Victoria.
Moonlight Cabin, Victoria, by JCB Architects

With a views like this would anyone really complain about the size?
Upper House, Melbourne, by JCB Architects

Can you create a highrise from concrete and clouds? Melbourne firm JCB Architects say yes. Their 17-storey Upper House is home to 110 one- and two-bedroom apartments – which means a lot of people in a small space. The first 11 floors are formed of precast natural matte concrete topped by a communal space for the many residents. The communal 11th floor boasts a lounge, gym, dining space and generous green roofscape. And then the cloud appears. A white glass curtain wall, partially transparent, floats atop the shared space.
Upper House, Melbourne, by JCB Architects

Admittedly it's a very cubic cloud, but it's a cute way of enabling an extra five storeys. A clever touch – the 'ravine' that runs vertically down the building features louvres that open and close automatically, triggered by data sent from the Australian Bureau of Meteorology. JCB Architects includes Australian Institute of Architects president Jon Clements as a director, and the firm is setting a fine example.
Dr Chau Chak Wing Building, Sydney, by Frank Gehry

Frank Gehry loves to defy architectural norms; no one makes a building 'like' the Guggenheim Museum in Bilbao or the Walt Disney Concert Hall in Los Angeles. And this, his first building in Australia, stands as another unique creation. Its curved 11-storey brick facade – an homage to Sydney's sandstone heritage – folds like fabric, yet dramatises the corbelled texture of its 320,000 buff-hued bricks. On the western side, a dramatic glass curtain wall mirrors the building's contemporary surrounds.
Dr Chau Chak Wing Building, Sydney, by Frank Gehry

Billionaire Australian-Chinese businessman Dr Chau Chak Wing's son Eric studied architecture at UTS, so the good doctor donated $20m to the project, along with an additional $5m for Australia-China scholarships. However, if it's something of a mouthful to say Dr Chau Chak Wing Building. If you go looking for it, ask for 'the paper bag' – any one of its 1600 academics and students will be glad to lead you to their wonderfully crumpled new building.
Thomas Street building, Sydney, by Durbach Block Jaggers Architects and BVN

Inspired by nearby tree formations, the soft, fluid and undulating facade of the Thomas Street building by Durbach Block Jaggers Architects and BVN, dotted with some 700 recycled glass windows, is as friendly as it is distinctive. This sculptural building welcomes new students in, and once inside, they find that the fluidity continues – a sinewy spiral staircase leading them up and down the eight-storey building (five above, three below), encouraging flow within the building and contact with researchers.
Thomas Street building, Sydney, by Durbach Block Jaggers Architects and BVN

The building's bright-green 200-seat undergraduate 'super-lab' is a cheeky counterpoint to the traditional labs and research areas. UTS Thomas Street shares a campus with Frank Gehry's Dr Chau Chak Wing Building, so it has been most unfairly overlooked since opening in February 2015.
Westmead Millennium Institute, Sydney, by BVN

Bright minds tend to work best in bright spaces. With this in mind, established architectural practice BVN created a light-filled building that has allowed medical researchers to escape their gloomy labs housed across six sites of the Westmead Hospital campus and work together under one roof.
Westmead Millennium Institute, Sydney, by BVN

The design for the Westmead Millennium Institute in Sydney is built around a 'bench to bedside' approach, encouraging the sharing of knowledge from research team to frontline medical staff.
Westmead Millennium Institute, Sydney, by BVN

Light-filled with exterior glazing, a deep atrium and generous garden welcome the sun and provide an optimal space for the crucial research done by 380 medical researchers and their support staff.