Old Army Barracks transform into new premises for Paris university
The French capital's Lourcine barracks, dating back to 1875, have been transformed into a verdant, modern university building for Paris I – Law University by architecture practice Chartier-Dalix, which merged an industrial interior with a leafy, carefully landscaped exterior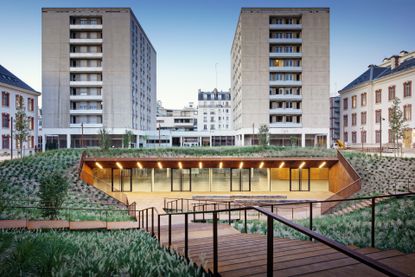 (Image credit: Takuji Shimmura)
Nestled in one of Paris' oldest military sites, Lourcine barracks have been ambitiously transformed into a new site for Paris I Law University, complete with a library, lecture theatre, classrooms and offices. With the oldest parts dating back to 1875, the architects in charge of the project, the Paris-based Chartier-Dalix agency, have preserved the historic features of the site, while carefully adding in new elements with a strong contemporary feel.

Inside, natural light makes a wide corridor an ideal meeting space, where students and lecturers can gather around before heading to the other floors – all connected by a monumental, newly added, spiral staircase. The library's reading rooms have been organised accordingly so that natural light can flood in through large original windows, creating a soothing atmosphere to those working on their academic studies.
Beyond a few modern and environmental upgrades, Chartier-Dalix has chiefly worked on clearing the heritage site, thus allowing its nineteenth century features and original splendour back into plain sight. Oak, glass and steel, added technical installations and industrial style made to measure pieces of furniture, bring the necessary contemporary touch to this renovation work, where old and new smoothly complement each other.

Outside, the grounds keep their original function as a central forecourt connecting a wooded garden and three buildings. Weathered steel panels pave the ground up to a gallery located at the lowest point of the site. Here what used to be an old car park has now been turned into a plush and stylish lecture theatre which can host up to 500 students.

Innovatively opening up to the surrounding existing buildings, the new Paris I Law University premises are an inspiring work of renovation, which brings a fresh architectural approach to this ever-changing south-eastern corner of the French capital city.
INFORMATION
chartier-dalix.com (opens in new tab)