In the cloud: we tour Lavazza's new Turin headquarters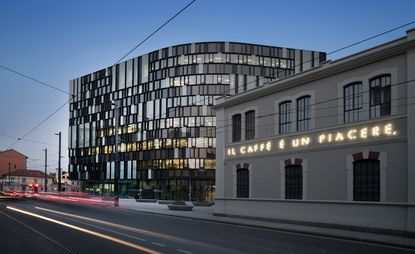 (Image credit: Andrea Martiradonna)
The concept of a cloud has always had a strong presence in the history of art and design; from Leonardo and Mantegna right up to the binary codes of Steve Jobs, the cumulus has always symbolised enlightened thinking. The cloud's elegant curves have also inspired the forms in the main building of a large-scale complex that Cino Zucchi Architetti has just created for Lavazza.

Located in Turin, Italy's most industrial city, the project is entitled Nuvola Lavazza and started back in 2010; and not only does it involve the regeneration of an entire inner city neighbourhood and the restoration of a precious historic building, but it also represents the perfect balance of looks and function. Cino Zucchi's Milanese architecture studio orchestrated the site's cleverly designed master plan, accommodating workspace for more than 600 people, including research and development. Lavazza's headquarters have always been located in the region and the internationally iconic Italian coffee brand has made its mark there. Now, taking things a step further, the company sank a significant overall investment of some €120 million into its new home.

Nuvola may involve privately owned workspace, but it also includes a strong public element, with spaces dedicated to culture, education and leisure, so Zucchi's plan incorporates offices but also an array of different buildings, and even an archaeological park. Invaluable contributions by the likes of chefs Ferran Adrià and Federico Zanasi, the Oscar-winning set designer Dante Ferretti, and the renowned museum designer Ralph Appelbaum, are part of this star-studded design.

'The new Lavazza campus represents a new way of addressing the relationship between a private company and the city it is based in, between a building and the public space that surrounds it', says Zucchi. 'In stark contrast to the concept of "zoning" found in functionalist town planning, this project revisits, in a contemporary light, the layering and the coexistence of various different functions typical of ancient cities, with a high quality environmentally conscious garden, a design school, two restaurants, an events venue, a museum and new generation work spaces. The sinuous and vibrant facades of the new offices and the trilithic porticos that lean against the historic buildings become the backdrop for a new park which in turn triggers the urban regeneration of an entire neighbourhood'.
INFORMATION
For more information visit Cino Zucchi's website