Floating architecture is a booming business, thanks to Dutch designers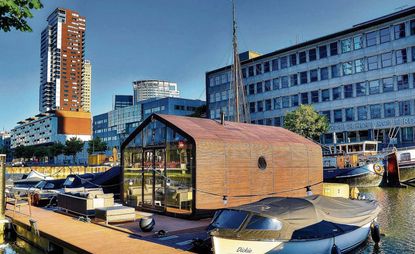 (Image credit: press)
A famous saying credits the Dutch for having literally created the Netherlands. This does justice to Holland's formidable man-made infrastructure that renders buildable the land – half of which would have otherwise been regularly flooded. Today, as climate change causes sea levels to rise, floods are becoming a global challenge. With 75 per cent of the world's ever-growing megacities located in delta areas, large-scale construction on water seems to be only a matter of time.

Dutch designers, architects and developers are already pioneering this next step: in Rotterdam, one of the world's biggest ports, the team at property developer Beladon combines expertise in maritime technology and agriculture to build floating farms for alternative fresh food production. Public Domain Architects has proposed floating homes as a solution for a flood-prone new development area – the buoyant Harbour Loft Apartments will simply move up and down in sync with the water.

Reinforcing Rotterdam's reputation as an innovation hub, Aqua Dock – a cooperative venture involving the municipality, the port authority and the RDM Centre of Expertise of the Rotterdam University of Applied Sciences – provides a test site for innovation in floating structures.
The Schoonschip by architecture firm Space & Matter is a design for a sustainable floating neighbourhood in northern Amsterdam

Meanwhile, the emerging Floating Community in the city's Rijnhaven area gets ready to host a flock of Wikkelboats. These floating versions of the already popular Wikkelhouse – a modular house built with multiple layers of waterproofed cardboard – will act as a showcase for new products and services that reduce the carbon footprint while improving the quality of life.

Amsterdam saw its first floating neighbourhood rise in 2011 in Ijburg. Today, researchers from MIT are collaborating with the local Institute for Advanced Metropolitan Solutions to develop a fleet of autonomous multi-purpose boats for Amsterdam's canals, while architects at Space & Matter and project managers at Waterloft have put together a building group to create a new sustainable floating neighbourhood for some 46 families.

Opportunities for experiments with floating architecture are emerging across Europe. In France, a recent competition Reinventing the Seine has made 41 underused riverside sites in Paris, Rouen and Le Havre available for creative revision. As a result, Paris' existing floating hotspots – the Josephine Baker swimming pool, the Petit Bain concert venue, and the OFF hotel – will be joined by a bakery, a waste management facility and an urban art centre. Shared by Paris and Le Havre (a major port at the Seine estuary) will be the Barges & Berges project with youth hostels, a co-working space and a sports centre housed on stilt structures and barges.

Two projects for London – Denizen Works' floating church and community hub that will navigate between the city's brownfield redevelopment areas and Gensler's proposal for UK Parliament's temporary quarters on the Thames – contribute to the world's rapidly expanding catalogue of new waterborne architecture.

Here, we scope out some of the most innovative concepts, experiments and projects floating on the horizon.
Barges & Berges, Paris and Le Havre, France
A collaboration between BRS Architectes Ingénieurs, Nicolas Lombardi Architecture and YG Marine Design, this project is shared between two cities located on the river Seine. Two large docked barges will accommodate youth hostels, while two mobile barges will seasonally switch functions that include a summer school, additional residences, the hybrid of a café and a conference space, co-working spaces and a sports centre.
Floating Farms, Rotterdam, Netherlands
Beladon, a specialist in designing sustainable buildings and landscapes on the water, proposes three kinds of floating structures adapted to producing dairy, vegetables and eggs. The first Floating Farm opens in Rotterdam in early 2018. According to CEO Peter van Wingerden, this will be a perfect test location, yet the real demand for alternative food production is in the rapidly growing cities in Asia and Africa.
Temporary UK Parliament, London, UK
Architecture firm Gensler proposes a space and cost effective solution to enable a six-year-long decant of the Westminster Palace for its long overdue refurbishment works. The concept colocates both Houses of Parliament in a 250m long floating structure that takes inspiration from the magnificent timber roof of the Westminster Hall commissioned by Richard II in 1393. According to Gensler, the structure can be built in British shipyards and floated along the Thames to be assembled on the river in front of the Palace.
Floating Church and Community Hub, London, UK
Designed by Denizen Works with Turks Boatbuilders, naval architect Tony Tucker and Jeckells the Sailmakers, this hybrid of a church and a multi-functional hub will circulate between the new communities in London's brownfield regeneration areas. Inspired by the church organ bellows and the pop-up sleeping pods of vintage VW camper vans, its distinctive roof will use two layers of translucent glass fibre fabric sandwiched around a carbon-fibre frame.
Recycled Park, Rotterdam, Netherlands
Another component of the emerging Floating Community in Rotterdam's Rijnhaven, the Recycled Park is a collaborative effort initiated by Ramon Knoester of WHIM architecture. The project aims to retrieve plastic waste from the Nieuwe Maas river before it reaches the sea, and use it to design plant- and marine fauna-friendly platforms for a floating park.
Moulin Seine, Paris, France
Seine Design (architects) and Zoom (landscape designers) teamed with a bakery and an expert in river tourism to design Paris's first floating bakery and pastry shop with a roof garden. The bread making process will be put on public display; three electric shuttles will be used for delivery and as pleasure boats.
Schoonschip, Amsterdam, Netherlands
Space & Matter is involved in developing a new sustainable floating neighbourhood in Northern Amsterdam. Thirty homes for 46 families will be connected by a jetty serving a public space and designed to orient all houses for optimal views. To ensure variety, the team proposes five different houseboat typologies that can be further adapted by each family.
Wikkelboat, Rotterdam, Netherlands
The first Wikkelboat premiered in May 2017 in the Red Apple Marina, the only pleasure harbour in central Rotterdam. A collaboration with the Amsterdam-based creators of the Wikkelhouse, it functions as a meeting, sleep-over and service point and serves as a prototype of the Floating Community, 'the world's first floating carbon neutral village', to be unveiled in spring 2019.
Roboat, Amsterdam, Netherlands
Researchers from MIT partnered with several institutions in the Netherlands to design a fleet of authonomous boats for the Amsterdam's canals. Besides transporting goods and people, they will also be able 'to cooperate to produce temporary floating infrastructure, such as on-demand bridges', explains Carlo Ratti, MIT's professor of the practice of urban technologies.
Harbour Loft Apartments, Rotterdam, Netherlands
This project for a flood-prone new development area combines floating homes by Public Domain Architects with the creation of an eco-friendly river bank, on which the so-called 'tidal park' will foster riverside wildlife. Built off-site as prefabricated kit homes, Harbour Loft Apartments will be towed to the location by mid-2018.