Noah's ark: a concrete house floats above South Poland's mountainous landscape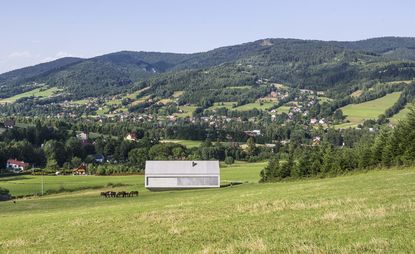 (Image credit: Jakub Certowicz)
South Poland's picturesque, green and mountainous landscape was a key inspiration for Katowice based architecture firm KWK Promes' latest residential offering, situated in the rolling hills of Brenna.

Upon closer inspection, it is not hard to imagine how the visually striking Konieczny's Ark got its name. Created for the firm's owner, Robert Konieczny, the home becomes vulnerable to landslides due to its slopeside location, which can be a frequent occurrence in this part of the Polish mountains. To safeguard the building, the architects created a design that 'floats' above ground, giving the Ark its abstract boat-like aesthetic, while allowing for water and mud to flow underneath freely, without damaging the property.

The same reason led the architects to decide that the best possible garden solution for this house would be not to have one, and let the existing fields become the Ark's ample backyard instead.

Due to the plot's location, remote and deep within natural wilderness, a concern for security was addressed by twisting the main volume, so that only one of the home's corners in fact makes contact with the earth. This is also where the house's main entrance is situated – with the rest of the building being suspended in the air. This entrance is protected by a drawbridge.

Poured concrete, supplied by a local producer, is the main construction material of the house. The structure becomes stronger with the help of the external walls, which help manage the tensions created by the Ark's 'inverted-roof' shaped base.
In order to protect the house, the architects created a design that allows the Ark to 'float' above water or mud. This move also gives the house its boat-like aesthetic
INFORMATION
For further information on Konieczny's Ark, visit KWK Promes' website