Godspeed: Kentucky's oldest art museum gets a makeover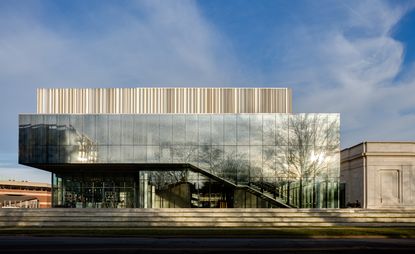 (Image credit: Rafael Gamo)
After years of extensive works, the Speed Art Museum in Kentucky is finally ready to reopen its doors and unveil its spectacular renovation and brand new extension. Endearingly referred to by locals as 'the Speed', the new museum complex, designed by internationally renowned architect Kulapat Yantrasast and his firm wHY, was executed in collaboration with the Louisville architecture firm KNBA.

When the museum decided to kick start its significant makeover, transforming its existing 1927 Neoclassical structure built by Arthur Loomis, they began an international search for the right firm. Whittling down a long list of over 100 candidates to just eight, the board members were won over by wHY's proposal, coined by Yantrasast 'acupuncture architecture,' which secured the sought-after commission.

The idea behind 'acupuncture architecture' came up quite early in the project's development. 'Rather than create a stand-alone expansion, we wanted to activate the original building from multiple points in order to heal the whole,' explains Yantrasast.

The museum's new extension – named the 'North Pavilion' – features a facade of concrete, metal and fritted glass. A wide internal staircase is also visible through the transparent exterior. Upon entering, visitors are greeted by a series of free-flowing areas, such as an indoor/outdoor auditorium, an entry hall and a double-height light and airy lobby, which includes a suspended steel structure by contemporary artist Spencer Finch.

The new wing's public services are decentralised to create an unexpected path of exploration for visitors. wHY aimed for 'openness and transparency' when planning the interior program, emphasising a relationship to its context with numerous views out to the surrounding landscape, outdoor piazzas and the nearby University of Louisville, Belknap campus.

The new and old parts are linked through a suspended bridge. This connection supplies a view over the newly excavated atrium in the North Pavilion and gives access to the once hard to reach educational program area within the building's basement.
INFORMATION
For more information on the Speed Art Museum, visit wHY's website
Photography: Rafael Gamo
ADDRESS
Speed Art Museum
2035 S 3rd St
Louisville
KY 40208
United States
VIEW GOOGLE MAPS (opens in new tab)